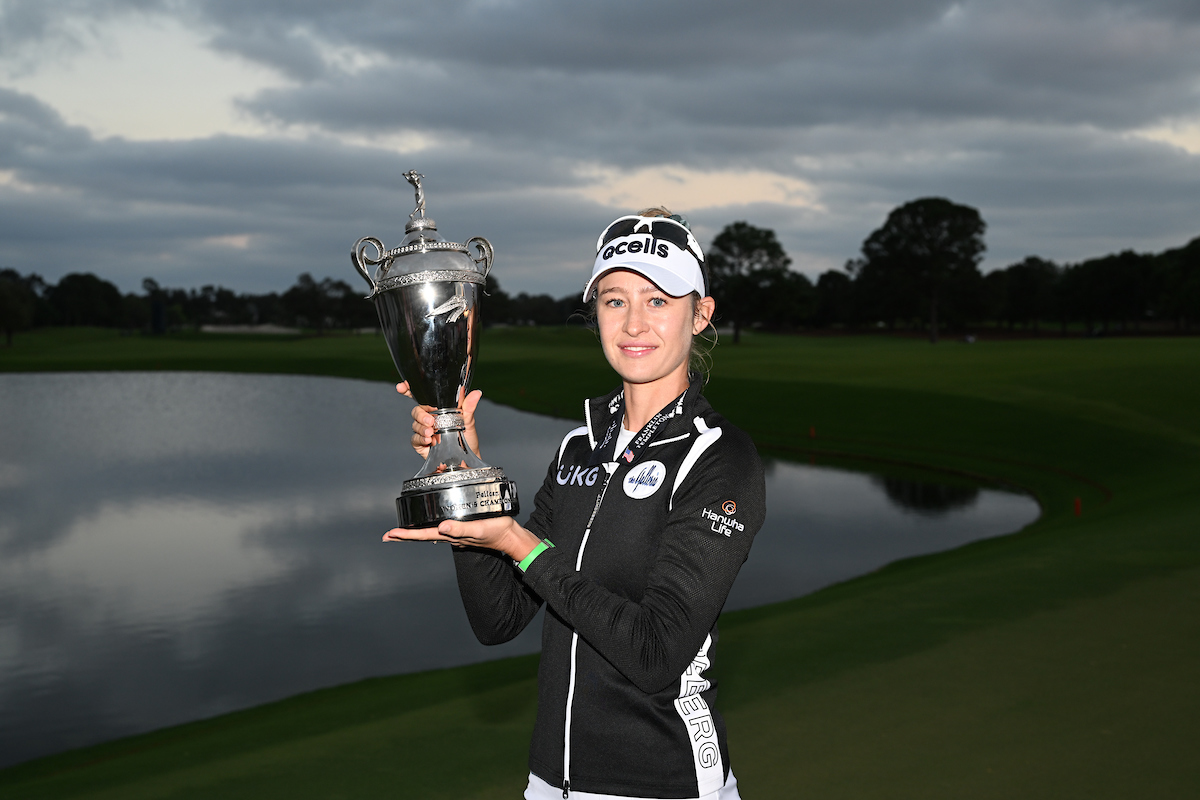 AT PELICAN, NELLY AGAIN IS ON TOP OF THE WORLD
By Jeff Babineau
BELLEAIR, Fla. – Nelly Korda finds herself atop the world of women's golf once again after her exciting one-shot victory over Lexi Thompson on Sunday at the Pelican Women's Championship, the penultimate event of the 2022 LPGA season.
Korda, winless on the LPGA this season until Sunday, played nearly flawlessly in a final-round, 6-under 64, making birdies at the 16th and 17th holes to build a two-shot lead. The only blemish in a round filled with seven birdies was a closing bogey at the difficult 428-yard 18th, the green guarded in front by water, where she played smartly and safely with her approach and finished over the green.
Korda finished 54 holes at 14-under 196, and edged Thompson, who closed with 66. Rookie Allisen Corpuz, who started Sunday alone in front and was trying to win for the first time, rallied late to shoot 69 and finished third. (The tournament originally was scheduled for 72 holes, but lost a day of play to Hurricane Nicole on Thursday.)
Korda also prevailed a year ago at Pelican in a four-way playoff, with Thompson, seeking to win for the first time since 2019, a runner-up then as well. A year ago, Thompson had a lead on the back nine and stumbled at the finish, missing three short putts. This time, Thompson played solidly, shooting 66. She simply got beat by a hotter player.
When it comes to being No. 1, Korda, 24, had been there, and done that, spending 29 weeks at the top perch, first arriving when she won her first major title (KPMG Women's PGA Championship) in the summer of 2021. This time, after undergoing surgery in early spring to remove a dangerous blood clot in her left arm, returning to No. 1 was more meaningful. At one point, she didn't know if she even would be competing in 2022.
"Yeah, I didn't even know that (No. 1) was kind of in play if I would've won," said Korda, now an eight-time LPGA champion. "Quite amazing, to be honest. I've never been a player that's kind of looked at the rankings too much. I've always said that good golf and enjoying myself out there and playing to the best of my ability kind of solves all that."
More succinctly, as she said off the 18th green shortly after wiping away tears, "It feels really good to be on top."
Four players held the lead at different junctures on Sunday, including Thompson, Corpuz, the second-round leader, and Spain's Carlota Ciganda, who broke fast with birdies on her first four holes to reach 12 under. (She finished at 72.)
One by one, contenders faded until the stage was left to Korda and Thompson, two of the game's youngest and brightest stars. Korda was a steady force throughout. She birdied her opening hole, made a nice par save at the difficult second, and started running off birdies at the seventh. Few players can be as explosive as Korda can be when she is on; she made six birdies in an 11-hole stretch to reach 15 under.
Thompson heated up starting at the par-4 fifth hole, reeling off four consecutive birdies of her own. Her putting at times comes into question, but she was solid with the putter throughout the week, burying several clutch putts in the 6-to-10-foot range to keep her momentum.
She made her first bogey at the 11th, and then spun a 9-iron off the green at the par-3 12th. The shot pitched on short of the hole, began to slowly trickle toward the front of the green, and rolled down a steep embankment into water. Had her ball stayed on, as it normally would have in firmer conditions, Thompson would have had 15 feet, uphill, for birdie.
Instead, she would take a drop and save bogey, lagging from off the green to 2 feet, but now trailed Korda. Both players birdied the par-4 13th, and Thompson made her final birdie at the par-5 14th. When Korda pulled away with two late birdies, Thompson could not match her.
There were other tight races going on inside the tournament Sunday at Pelican Golf Club. Some players were trying to get into the top 63 in the Race to the CME Globe in order to qualify for this week's $7 million CME Group Tour Champioship in Naples. When Maria Fassi three-putted her final hole and made bogey, she slipped out of the top 63, and the points table stayed exactly as it had been when the week began, with former World No. 1 Ariya Jutanugarn grabbing the final spot.
Some players were trying to finish in the top 100 to keep cards for 2023. On the strength of a final-round 64 and her tie for fourth, Morgane Metraux moved from 101st to 85th. Those finishing just short: Dewi Weber, Gerina Mendoza and Su Oh, who finished 101-103, respectively.
Korda and Thompson didn't have to worry about job security, or making it into the field at CME, as their spots were secured months ago. Thompson was more interested in chasing a champion's trophy on Sunday. She said she was proud with how she battled following consecutive bogeys early on the back nine.
"I think in previous years if that would've happened I would've let it get to me, or even after hitting it in the water (at 12) I could have let that get to me," Thompson said.
"I was like, 'All right, snap out of it.' Yeah, you're not happy right now, but getting even more upset isn't going to do me any good. So I was like, 'Let's get the bogey' (which she did), bounce back with a few birdies coming in, and see where that goes."
Unfortunately, she was chasing Korda in the end, and when Korda is in stride, she is a difficult player to catch.
"I feel like on that back nine, if you can just stay close, you can shoot under par or you could shoot over par pretty quickly," said Jason McDede, Korda's caddie. "We just had to hang in there. We knew it was going to be an all-day affair. For Nelly, being No. 1 again is testament to how good she is, and how hard she works. I'm proud of her."
Thompson hit a poor drive left off 18, and hit a 2-iron from 188 yards that barely cleared the water, right of the green. She made a beautiful pitch, but when it settled 2 feet from the flagstick, Korda, leaning on a metal post next to the scoring tent, was the Pelican winner. Again. Back-to-back.
Minutes later, as Thompson spoke in a media tent adjacent to the 18th green about yet another close call, Korda was only 20 feet away, being showered in champagne. She was No. 1 again. Some days the game can be very complicated. Some days it isn't complicated. After a thrilling Sunday finish, the game's best player owned the trophy.
Back to News