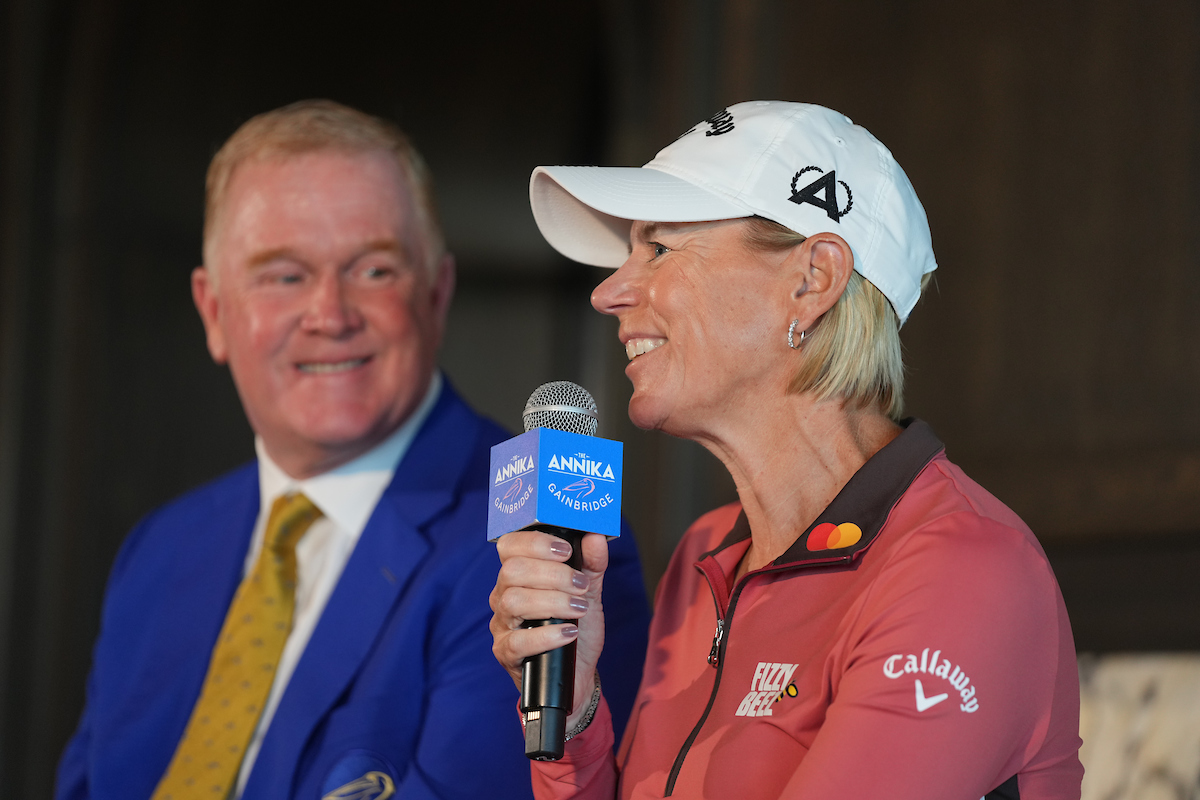 At the newly named 'The ANNIKA,' Big Dreams are Springing to Life
By Jeff Babineau
BELLEAIR, Fla. – Dan Doyle Jr. and his father, Dan Sr., were sitting behind the clubhouse at Pelican Golf Club early Tuesday morning, watching many of the greatest players in women's golf file past them. This week's LPGA event – The ANNIKA driven by Gainbridge at Pelican – is being hosted at the club that they own, and the event has traveled a long distance in only four years.
In short time, the tournament has become one of the most prestigious stops on the LPGA schedule, and this week, the event will reach heights not previously reached. For one, the purse has been bumped to $3.25 million, which, outside of next week's season-ending $7 million CME Group Tour Championship in Naples, is the highest of any non-major on tour. Secondly, Sorenstam's name, and more importantly, her influence as one of the game's greatest global ambassadors, now has been added to the mix.
That's what is called a win-win.
The ANNIKA. Strong course, very strong field (10 of the top 11 in the LPGA's Rolex Rankings), and committed, strengthened leadership. The Doyles did not even have a clubhouse built when they made a pitch to the LPGA to host an annual event at a golf course that was totally revamped just prior to the first staging of the event in 2020. The course was nothing out of the ordinary outside of a nice location when Dan Doyle Jr. was just a young kid, when he could play it all summer for just $120.
After Beau Welling renovated the golf course, it was Pelican's COO, Justin Sheehan, a club professional who teaches several LPGA pros, who convinced the father-son tandem they had a special venue that could hold a special tournament.
At the tail end of last year's event, it was announced that Sorenstam would be part of the team in 2023. Those who know Sorenstam and her drive realize that she never is "half-in" on anything. If she is involved, and she lends her name to something, she is completely immersed. That will be the case this week. Sorenstam is playing in the pro-am on Wednesday, and on Friday she will be attending with her entire family: husband Mike McGee, their two kids, and even her parents, who started her in this game all those years ago in Sweden.
"Having Annika's name on it this year for the first time is wonderful," Doyle Jr. said. "Makes it a really special event. I'm sure at the end of it, Annika is a go-getter, she'll have her list, just like I do at the end of every year, like my dad does, how do we make it better the following year.
"So I am sure it'll be better next year."
As a player, Sorenstam's unwavering devotion and dedication led her to 72 LPGA victories and 10 major titles. She was a stalwart for Team Europe in the Solheim Cup, and even teed it up against the men at the PGA Tour's Colonial Invitational in 2003, barely missing the cut. She remains the lone LPGA competitor ever to shoot a sub-60 round in competition, firing 59 at the Standard Register Ping in 2001. The mark, amazingly, has stood for more than two decades.
This week's golf tournament is part of an overarching mission sponsored by Gainbridge it is calling Parity Week. There is power in numbers. Women across three sporting events – golf at Pelican, motorsports in Phoenix and tennis in Spain, at the Billie Jean King Cup – will vie for nearly $13 million in prize funds, as well as attend women's summits at all three sites that gather top leaders and help to inspire. Tuesday at Pelican, as leaders met in the clubhouse, Sorenstam made sure to listen in.
"These are women in different industries," Sorenstam began. "To listen to their stories, their hard work, and what they're doing today and sharing advice and stories that took them to where they are today – I think I talk about golf, but it's just real life, right?
"It's inspiring to listen to their stories. We all come from different parts of the world, different demographic or whatever it is. At the end of the day, it's like we have personal goals, and how do you share stories, successful stories? A lot of news today is very negative. You find kind of the sad stories, but when you really hear a good story it's like, that hit my heart. That's something. I think we can learn that, especially together. So sharing the stories there, I think it's very meaningful."
The beneficiary of this week's The ANNIKA driven by Gainbridge will be the ANNIKA Foundation, started by Sorenstam 16 years ago. The Foundation supports and operates tournaments on several developmental levels, from juniors to college to the professional ranks. To provide an idea of the depth of Sorenstam's influence on women's golf across the globe, there are 57 players – nearly half of this week's 120-player field – that are alums of Annika events.
"Anything that is associated with Annika Sorenstam, it's always ... it's just taken to the next level. What she has done for the game of golf and what she does to give back to it is incredible," said Rachel Kuehn, a fifth-year standout at Wake Forest who is in this week's field as a sponsor exemption.
Kuehn, who helped to lead Wake to the NCAA Women's championship last spring, is on the Watch List for The ANNIKA Award given to the year's most outstanding collegiate player. Sorenstam's reach across women's golf is everywhere.
For Sorenstam, to peer across the golf course and see her name appearing in practically every corner, well, it's a tad strange, she admits. Even overwhelming. Having one's name atop a great tournament is the type of stuff that happened to Arnold Palmer and Jack Nicklaus and Byron Nelson and Lorena Ochoa, greats all. And now Sorenstam has an event carrying her name to water, and nurture, and improve, and watch grow ...
"It's a dream come true," Sorenstam said on Tuesday, seated next to Doyle Jr. in the Pelican Golf Club's Albatross Room. "And listening to Dan say it's a dream for his family to see ... we're both living our dreams.
"It's nice when your dreams come true and you can enjoy it, and see it. I'm delighted. It's going to be a great week in so many ways."
Back to News