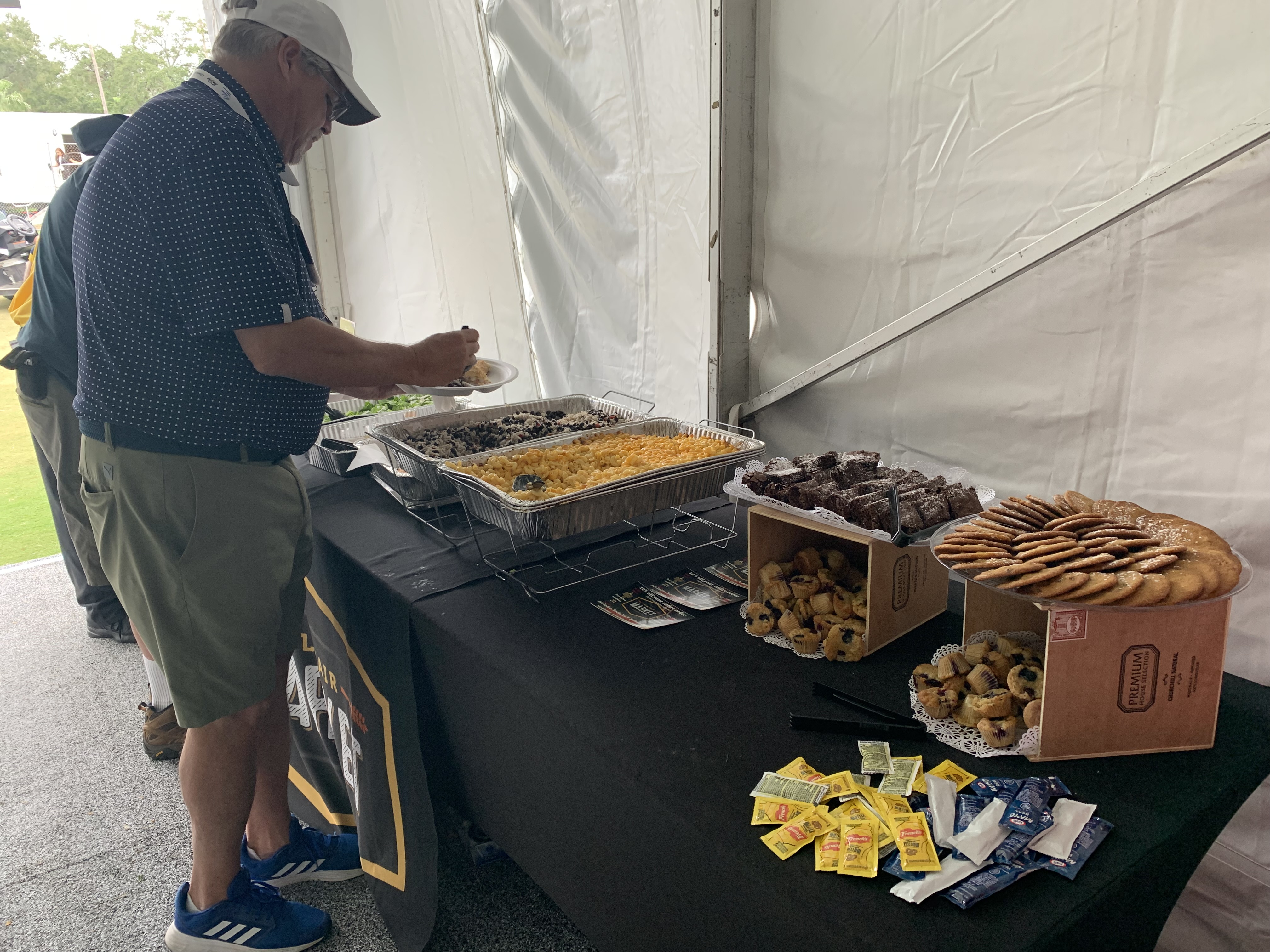 BELLEAIR MARKET: PRIDE IN SUPPORTING ITS NEIGHBOR
A customer once said that if the old television show "Cheers" were a convenience store, it would be the Belleair Market, where co-owners Chris Scott and Julie Champion know most every person that comes through the doors.
"We have 400-plus people come through the market every day, and 90 percent of them we know," said Scott, who bought the market in 2014 and runs it alongside his partner, co-owner Julie Champion.
Belleair Market has filled an active role at the Pelican Women's Open this week, where it provides more than 100 meals a day for tournament staff, volunteers, security and media members. Scott goes above and beyond, frequently making even more meals than needed "because we don't want anyone to go hungry."
The Belleair Market is just down Indian Rocks Road from the Pelican Golf Club, in neighboring Belleair Bluffs. Scott and Champion had a beer and wine license and did not have a food background, but now do a little bit of everything at the market, serving daily meals. Julie's Cuban sandwiches were such a hit that she ended up operating a full catering business. For two years, they also have run the adjacent Belleair Café.
When Scott bought the store nine years ago with Bruce Van Fleet (both are University of South Florida grads), he envisioned a throwback general store where kids could ride their bikes and purchase candy, and adults might stop in for a bottle of wine The market has been able to grow behind its dedication to jumping in wherever needed – such as this week's golf tournament – in service to the community. Scott said he enjoys the way the Pelican Women's Championship brings the community together.
"The Pelican is a part of this community, but it is a private club. So there's a lot of people that aren't able to be members, but they kind of want to see what it's all about," Scott said.
"To have an event where they can come out here and walk the grounds, see how good the staff is, and how beautiful this course is ... The Doyles (co-owners Dan Doyle Jr. and his father, Pelican's co-founders) have always been a huge part of our neighborhood. We're all neighbors, so it's special that people get to see what this course is all about. The people who work here are our friends, our neighbors, our family, so it's nice to be out here to support them."
Back to News