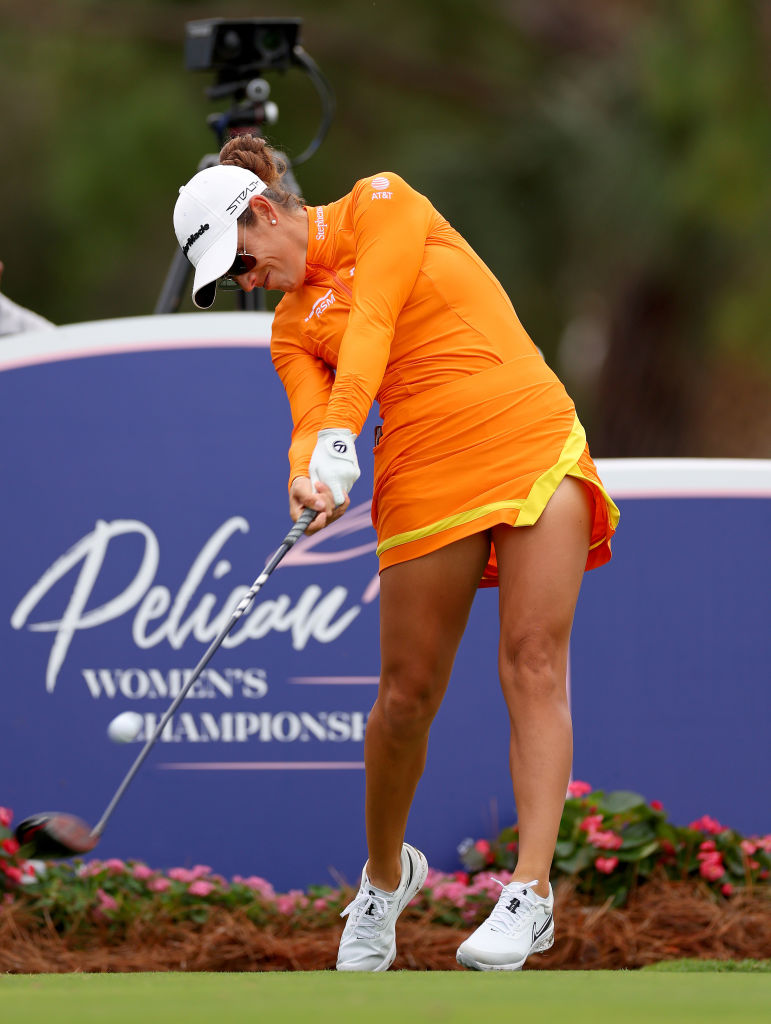 FASSI JUMPS OUT FAST AT PELICAN
By Jeff Babineau
BELLEAIR, Fla. – With a day of play lost on Thursday to the whims of Hurricane Nicole, and the tournament reduced to 54 holes, LPGA players at the Pelican Women's Championship teed it up Friday knowing a fast start was imperative. And no player started any faster than Maria Fassi.
Only 24, Fassi is immensely talented, a two-time ANNIKA Award winner in college at Arkansas and NCAA individual champion who represented Mexico in the 2020 Olympics in Japan. Surprisingly, she has yet to win on the LPGA, and entered this week at Pelican Golf Club on the outside looking in as she tries to climb into the top 60 to qualify for next week's CME Group Tour Championship in Naples. Fassi started the week at 72nd in the Race to the CME Group standings; victory jumps her into the top 40.
On a golf course softened a day earlier by heavy rains, Fassi, who leads the LPGA in driving distance (279.15), was pretty much perfect. She made an eagle (at the par-5 14th, hitting hybrid to 10 feet) and six birdies and never did encounter a bogey. Her 8-under 62 propeled her into a two-shot lead in the LPGA's final full-field event of the season. Her game was as radiant as her all-orange wardrobe.
"The putter was just impeccable today," said Fassi. "Off the tee, I hit it probably as good as I ever have. So, it was a pretty good combination."
Players took advantage of softer conditions and very good greens, and birdies were plentiful. Lexi Thompson, who was part of a four-way playoff a year ago which was won by then-No. 1 Nelly Korda, picked up where she left off, shooting 64, and was in a large group at 6 under. Others matching her at 64: Tiffany Chan, who needs a great week to keep her card; Carlota Ciganda, playing with an injured left ankle; Hyo Joo Kim, ranked ninth in the world; and Isa Gabsa, also needing a very good week to keep a card.
Thompson, who loves playing in Florida (she's a native Floridian), truly enjoys the test that Pelican presents. She marveled at the course conditions considering Thursday had delivered a hurricane with winds to 75 mph in the area and pelting rains overnight. The course drained nicely, though the LPGA rules staff allowed players to lift, clean and replace balls in the fairway. It was about the only evidence that a big storm had blown through.
"I mean, even with five inches of rain it was in beautiful shape for us," said Thompson, whose round included an eagle-3 at the par-5 seventh and one last birdie on the difficult 18th hole. "Of course, ball in hand, but they (Pelican's maintenance staff) did everything that they could. You can definitely tell."
Thompson, 27, won a Ladies European Tour event last month in New York, a 54-hole event that was part of the Aramco Series, but has not won on the LPGA in more than three years, dating to 2019, when she collected her 11th title. She wants to win again, and soon, but has been demonstrating restraint in her chase.
"Just staying patient, that's all golf is, just staying patient, positive," she said. "I've been close a few times and hasn't worked out in my favor, so to be able to get that win and have the hard work pay off, that means the most to me, because I know how much I put into it."
In fact, on her unexpected off-day on Thursday, when many of her peers were watching movies or gathering for long lunches, Thompson was in her room, finding it difficult to sit still. With the facility shut down at Pelican, Thompson worked out on her own, twice, doing jumping jacks and jumping squats in her room.
"I was definitely keeping busy," Thompson said, "but just making sure I'm mentally staying there, and relaxing my body as well."
The tone for good scoring was set early when Germany's Gabsa, who went off in the first grouping off the 10th tee, shot 64. Others soon would join her, including Thompson, Carlota Ciganda, Hyo Joo Kim, and Tiffany Chan. There is a lot to play for this week with this being the penultimate week on the schedule – the final event for those outside the top 60. For Gabsa, who is 108th in the Race to CME Globe points table, she needs to sneak inside the top 100 to cement full LPGA playing privileges for next season.
Timely, then, that she and her brother, Pascal, who is also her caddie, spent Thursday afternoon watching the new Star Wars series, "Andor." As character Cassian Andor contemplates a massive prison break, he decides, even if unsuccessful, he'd prefer to die trying than not to try at all. In a roundabout way, Gabsa is following a similar philosophy as she tries to keep a card. All or nothing, and no holding back.
"We can just play as aggressive as we want to – there is no failing," said Gabsa, who would head to the second stage of qualifying if she finishes outside the top 100. "Just go for pins, and if it works out, it works out."
Nelly Korda, defending champion at the Pelican, played later in the day and opened with 66. Lydia Ko, currently with a one-point lead over Minjee Lee in the Rolex Player of the Year standings, and the LPGA's leader in scoring average, shot 68. Among those players competing in Friday's afternoon wave, Gaby Lopez, Allisen Corpuz, Pauline Roussin, Yaeeun Hong and Jasmine Suwannapura shot 65s to match Lizette Salas, who shot 65 earlier in the day.
Back to News