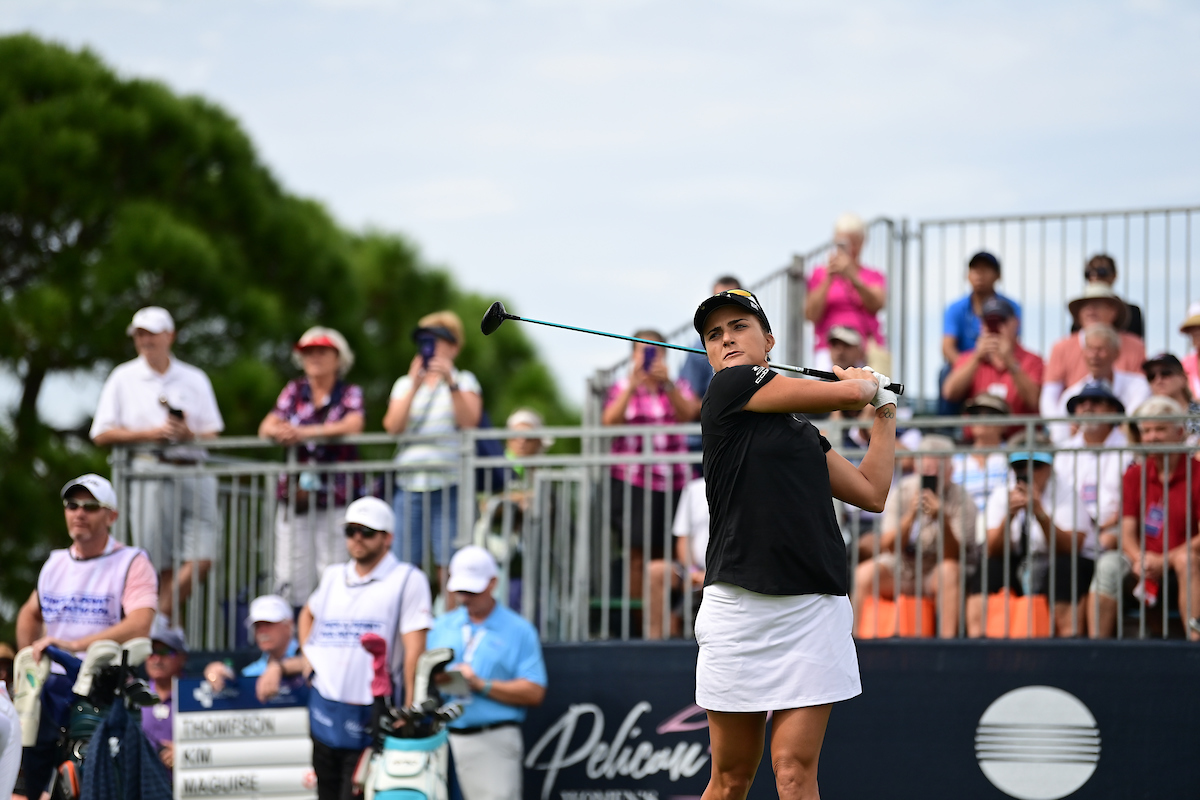 FOR LEXI THOMPSON, CLOSE CALLS ONE PRICE OF ALWAYS BEING THERE
By Jeff Babineau
BELLEAIR, Fla. – Lexi Thompson is asked her greatest memory of the 2021 Pelican Women's Championship, and she immediately goes to the 18th hole on Sunday. She was one of four marquee players – Nelly Korda, Sei Young Kim and Lydia Ko the others – to walk down that brutal finishing hole with a chance to win.
In fact, Thompson probably had the best chance of any, but a short miss for par in regulation and a short birdie miss inside 5 feet in the playoff (on top of a short miss at the 71st hole) left the title to Korda, who answered the ignominy of a triple-bogey 7 on the 71st hole by making birdie at 18 not once, but twice, the second time to seize the playoff. Thompson, conversely, was left to address one more heartbreaking ending, yet that's the memory Thompson chooses, because it was equally invigorating, and represents everything she seeks as a competitor.
"I think coming up 18, with the amount of fans they can get around the green (at Pelican Golf Club) and the backdrop of the clubhouse, is one of the best finishing holes that we have on tour," Thompson said recently on her first trip back. "I would say just coming up that hole, the whole scene, experiencing that – good or bad – it's one of those holes where you stop and look and tell yourself, 'OK, this is pretty amazing.'
Unfortunately, amazing doesn't always come with a trophy. Thompson is 27 now, grown up and mature, and she has been playing professional golf for more than half her life, turning pro at age 15. She has her own army of devoted fans, signs autographs for hours, and moves the needle as few other players can on the LPGA. Around any event, her first name alone suffices. Lexi. She has experienced all the game has to offer – the highest highs, the lowest lows. When she is down, she bounces back up with the resiliency of a new rubber ball.
Part of experiencing heartbreak at any level of golf is putting yourself there, and Thompson does that with remarkable consistency. She owns 11 LPGA victories, the last title arriving more than three years ago (2019 ShopRite Classic). A lost back-nine lead at the KPMG Women's PGA Championship this summer at Congressional marked her 21st runner-up.
"I know that people talk a lot about her putting, but she always puts herself in that position," said Morgan Pressel, NBC/Golf Channel analyst who is a longtime friend and South Florida neighbor of Thompson's. "She is so good, week in and week out, that she's always challenging.
"You look at Lexi you look at how many years she's won the Greens in Regulation on Tour (she ranks sixth this season, but was No. 1 a year ago, hitting nearly 79 percent). She's typically in the top 3, and that just shows the incredible talent that she has. There's a reason why she's such a big star, and it's because of her talent level and all she does to give back to the game."
Thompson did savor victory recently, winning a 54-hole Aramco Team Series event (sanctioned by the Ladies European Tour) at Trump Ferry Point in New York. There, all parts of her game came together, especially in her second round, when she shot 65, making five birdies and an eagle. Her older brother, Nick, who has played on the PGA Tour, has been on his sister's bag for a few starts, and will finish out the year with her as she competes this week at Pelican and at next week's CME Group Tour Championship in Naples, an event she has won. She enjoyed sharing the victory with him.
"I'd say the best part of my game (in New York) was my mental side," she said. "I never got too up, too down."
Thompson realizes she signed up to play a game in which even the very best – say, Jack Nicklaus, Annika Sorenstam or Tiger Woods – lost many more times than they ever could win. That's the reality. Just as long as Thompson can continue to work hard on her swing and fitness and work her way into a chance to win on Sunday, she can live with the outcome.
"You live for those moments as an athlete; that's where all your hard work as an athlete is meant to pay off, to put you in that position and get into those 'nervous' moments," Thompson said. "Unfortunately, yeah, with golf, you lose more than you win, but you learn from it. In those moments, you have the adrenaline rush, and you want to make those putts under the pressure and feel that your hard work paid off. Yeah, it's been an emotional roller-coaster.
"But it's been a whirlwind of learning, and I've learned a lot about myself, as an individual and a player. You learn from it, you move on, you keep a positive attitude, and you always strive to move forward."
When play begins at Pelican on Friday – all scheduled play on Thursday was postponed as Tropical Storm Nicole made its arrival along Florida's East Coast – Thompson surely will be a player to watch, as she always is. Her sheer power, her twisting body gyrations on her swing follow-throughs and her ability to make birdies in bunches make for exciting theater.
With the final two events on the LPGA schedule being in her home state of Florida, Thompson would like nothing more than to be a factor in the final round. She often is.
"It's important for me to finish strong," she said, "but there is no added pressure on me. I've worked extremely hard throughout the whole year. If I'm home working on my game, I've never worked as hard as I have. Yes, I'm enjoying my life and I'm not playing as much, but I am grinding when I'm at home. I'm training. That takes a lot of pressure off of me.
"When I play in my events, I know I've put in the hard work. That's all I can do. If it doesn't work out, it doesn't work out. I always tell people, that's what so great about golf. You can never perfect it, and there's always something to be learned. Every day is different. ... it will drive you nuts, but it's one of the best games out there."
Back to News