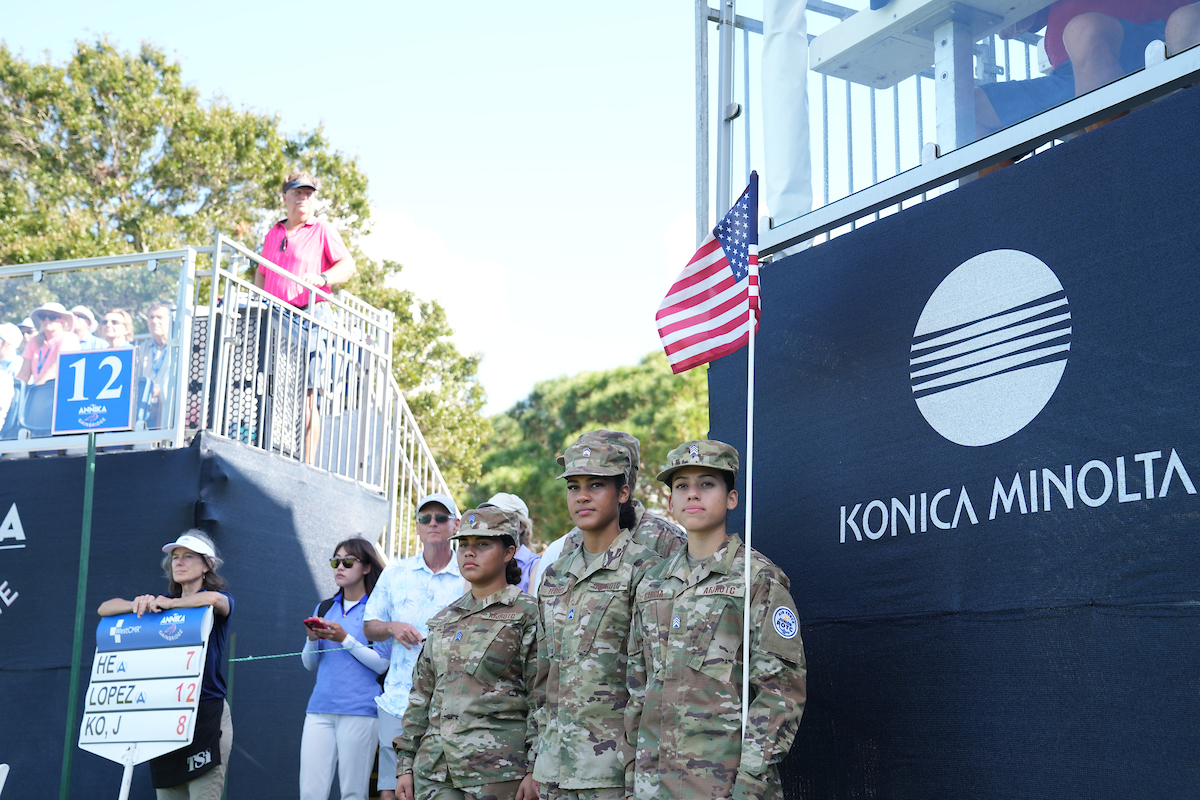 For the Red, White and Blue
By Carson Racich
BELLEAIR, Fla. - The sun had officially risen over Pelican Golf Club, despite play already having begun, fans made their way in from the course to the flag pole to honor our veterans, whether alive, active or deceased.
Four Cadets stood in formation as they walked the United States and Air Force flag amongst the viewing audience. The Veterans ceremony started with a presentation of our country's flags in a Color Guard ceremony. The presentation of the colors is a military tradition dating back centuries and shows support for our corps, community and nation.
"To see the color guards out there just gave me chills, I was tearing up and it only just begun" said one Vietnam veteran.
Along with the Color Guard, the ceremony opened with a live performance of the national anthem, a beautiful rendition that had a handful of audience members in tears and hugging their loved ones.
"The national anthem is such a beautiful song and stands for so much. It commemorates the country that we live in", expressed Wayne Grumney, Navy Veteran "Every time I hear it, I cry… I'm such a softy, thank god they didn't ask me to sing it".
Attending veterans all wore their respected gear in support of their branches. Despite having an opinion of which branch may be better, opinions were put to the side. It didn't matter if you were Military, Navy, Air Force or Marines, they all shared thanks amongst one another for what they have done for this country.
"I served in the Military, but to be here surrounded by all these other men and women who either had a choice or not to fight, I have so much respect for them" said another Vietnam veteran.
Many veterans expressed across the board that their homecomings were not the warmest years ago. They all were super appreciative of the tournament, along with other organizations putting an emphasis on showing support and thanking Veterans not only for the holiday but every day.
"When I came home it was not cordial at all and that is how it is for many before and still", said the Vietnam veteran. "I'm thankful that there's people now who realize how important the "thank yous" are and recognition is to us because it was hard".
Not many people realize how hard it is to be on the front lines and what all becomes affected. Some people were drafted, while others made the selfless decision to serve. Despite the reasoning, those choices not only change one person's life but also the family members who had to make sacrifices behind the scenes.
It was so tough to deploy, I had 5 kids and a wife", stated Grumney. "I was honest with my kids and tried to stay in touch with letters, but gosh 6 months was really long being away from them".
Guest speaker Mercy Aston talked about her and her husband's experience in the service. She went on to describe how, not only for herself but for a lot of others, people don't understand how difficult it is to serve and what they may bring back with them. Disabilities stem farther than just the outside, but also can form on the inside. Inspiring and talking volumes, the attending audience felt relief in her words.
"The speech was so inspiring, she told it how it is", said Vietnam Veteran "There's so many of us that are disabled from one way or another and nobody knows because we don't have scars on the outside… it really moved everyone".
Along with the Veterans Ceremony, The Annika driven by Gainbridge at Pelican made sure to once again include their Hero Outpost on the par three, hole twelve. A sitting area with refreshments and food reserved for the comfort of our veterans and their families.
"What they do here for us Veterans doesn't go unnoticed and we all appreciate it... We really do. Grumney tearfully said. "This area is a wonderful way for us to commune with our comrades, fellow shipmates, soldiers and sailors.
Along with the Hero Outpost, The Annika Presented by Gainbridge has partnered with Veteran efforts in helping elevate their golf careers in some form or fashion. Even though there are programs like PGA Hope, one program is not enough especially after all these veterans have done for this country.
"I'm an avid golfer, especially after retiring from the military. Seeing all these opportunities they have for us is amazing. I can't wait to go over to the tent and learn a little bit about these organizations I can join" Grumney said eagerly.
Back to News