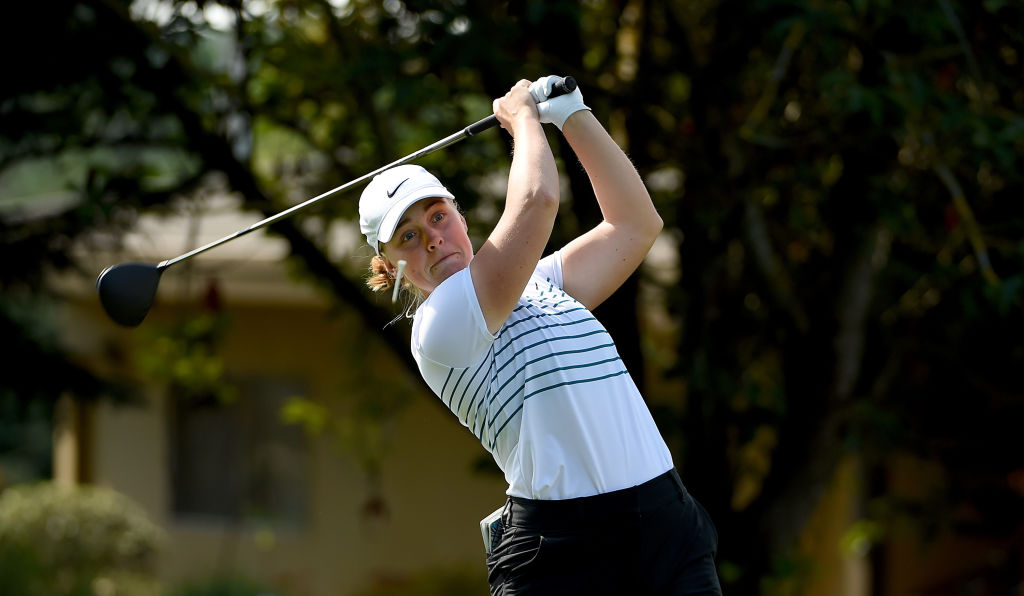 MAJA STARK HAS CLUBS, DEFINITELY WILL TRAVEL
By Jeff Babineau
BELLEAIR, Fla. -- Maja Stark may be only 22, but this year alone she has been to more countries than many people will visit in a lifetime. The smiling, long-hitting LPGA rookie from Sweden – who secured a card when she won the ISPS Handa World Invitational in Northern Ireland in August, an event co-sanctioned by the LPGA – has been around the world and back, to the point where she twice had to stop and rest because she was so run down.
Let's see. Northern Ireland, France, Spain, Thailand, Australia, Germany, Belgium and here in the U.S. (she played collegiately at Oklahoma State) have been a few of her 2022 stops. She began the year in Florida (two Epsom Tour starts) and will finish in the Sunshine State at the Pelican Women's Championship and next week's CME Group Tour Championship. At Pelican, she is in contention again after a third-round, 7-under 63, jettisoned her up the leaderboard. Through 36 holes, Stark is at 9-under 131.
Do playing courses around the world, different grasses, different conditions, help groom her as a player. Stark shrugged. She just tees it up and tries to make as many birdies as she can.
"I don't really notice the types of grass. I don't really pay that much attention," she said after a morning round in which she made eight birdies. "I just notice, 'Oh, it's different,' and then I just, I don't know, do what I usually do."
What she "does' is play golf at incredible level – she already is ranked 42nd in the world – though at some point, Stark might play even better if she mixes in more rest. After securing her LPGA card, for instance, she played five consecutive weeks, finally needing to withdraw because she'd fallen sick. Beyond fatigue, she also had inflammation in an overworked shoulder.
"I always think I can play more than I actually can," she said, "because I get sick and injured, so I have to stop doing that."
She arrived to Pelican Golf Club fresh, coming off three weeks of rest. She barely practiced in the last three weeks, instead using some of the time to help coach the Swedish National Team when it was training in Spain.
Stark said she really hasn't spoiled herself with all the 2022 winnings she has accumulated. She probably was too busy to do so. She did plunk down about $5,000 on Invisalign liners for her teeth.
Reminded that next week's CME offers $2 million to the winner, the self-deprecating Swede laughed and said, "Imagine what I could fix."
Back to News