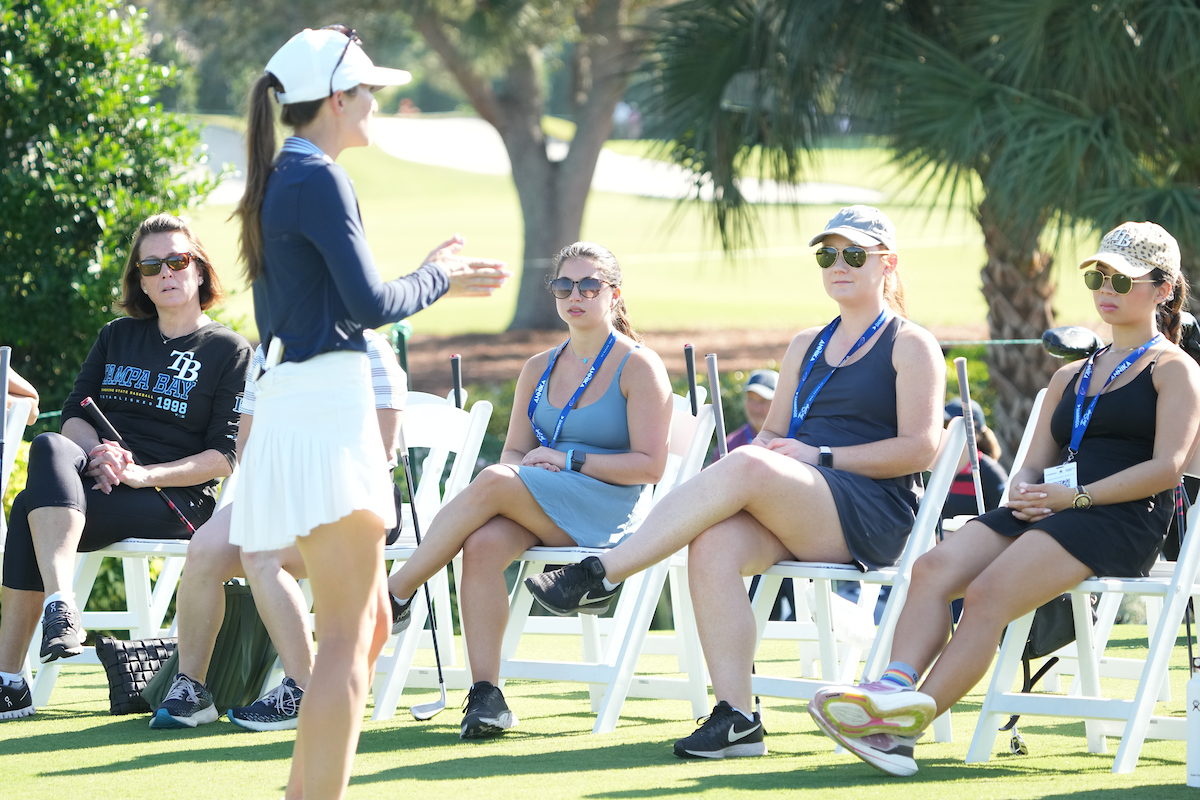 Nathalie Sheehan Sees a Bright Future for Girls Golf
by Carson Racich
BELLEAIR, Fla. - Nathalie Sheehan, Director of Women's Golf at Pelican Golf Club, is excited for the future of golf. Sheehan takes pride in coaching avid and new players, both older and younger, this week, she is in the excitement from her members and the community at The ANNIKA driven by Gainbridge at Pelican.
The grounds may be filled with fans of all ages, but the future of golf is promising with the large number of juniors and their little legs running around Pelican Golf Club.
"It's fun to walk around and see all the dads with their little girls out here," Sheehan expressed. "I can just see the excitement on their faces. They are so excited to see their favorite players, snag a signature or even picture… I LOVE IT."
Golf, which is a sport for life, not only develops a person as a player but also teaches valuable life lessons that you can take everywhere you go. Many teaching professionals look to develop or figure out how to continue to grow the game.
"We as teaching pros are constantly trying to find ways to make golf more and more accessible, as well as fun… that's the biggest thing, fun," Sheehan said. "The more introduction and excitement you can give the young ones, the more they buy into it."
The LPGA has an incentive along with ticket purchases that allows each ticket to bring in a junior free of charge. This is a great way to introduce the little ones to the game. Once you get the golf bug, you're hooked.
"Letting the kids tag along is special. It really allows them to get excited" said Sheehan. "To see little girls out here following their idols shows how these players are role models and promoting the idea of anything is possible…this gives these juniors a nice example to look up to."
For a lot of these players, they are out here looking to perform and win at the end of the day. But they also understand that that they are role models for juniors.
"I think it's essential that these professionals are personable and approachable… A lot of the players are really good about going out of their way to make relationships or connections with these girls'', Sheehan shared. "Those little moments between the players and the juniors means so much to them."
Sheehan spoke on how it's important to continue these initiatives to grow the game. The ANNIKA driven by Gainbridge at Pelican hosted a number of clinics to juniors throughout the week.
Juniors of all ages were welcome to participate or listen in. In addition to the junior clinics, Sheehan had a few of her own for members alongside for the event.
For a coach, living through your players brings another level of excitement. Sheehan talked about how students bring a sense of pride and joy when they share something that finally clicked in their game, or how they won a tournament.
"I love when I get messages from my students, to see how happy they are makes me so excited." Sheehan expressed. "My husband coaches a few of these LPGA players and it's just so fun to watch them and see how they do. Having a relationship is special and to see the work that's gone on behind the scenes is amazing."
Sheehan can't wait to see how these juniors walk away from The ANNIKA with the memories made and the inspiration they saw and implement it into their own games. Sheehan shared this piece of advice coming from a female in golf:
"The future of golf is so bright. Don't be afraid because it'll be hard at first. It takes time and you won't be perfect," Sheehan expressed. "All you have to do is start somewhere and the rest will come. It's an amazing game and will give a lot back to you."
Back to News