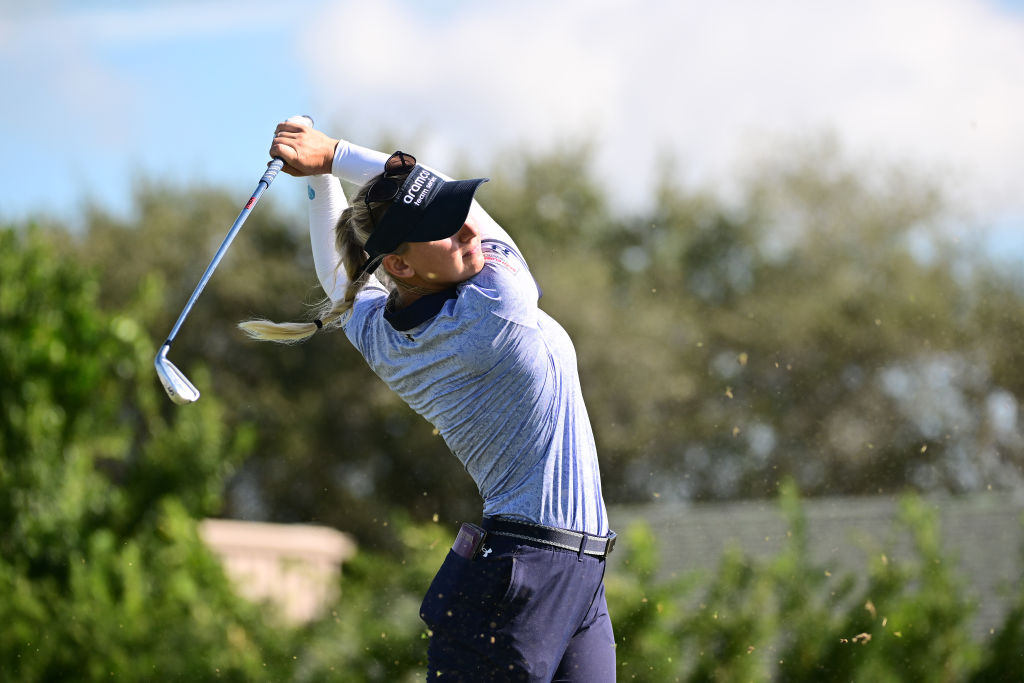 Pedersen a Relatable Leader at The ANNIKA
BELLEAIR, Fla. – You might not know the second-round leader of The ANNIKA presented by Gainbridge at Pelican, but if you're an average golfer, you can certainly relate to Emily Kristine Pedersen.
Not that you can replicate any part of her game. The 27-year-old Dane, who shot 65 on Friday to enter the weekend at 12-under par, has five wins on the Ladies European Tour and led after the opening round at the 2020 Olympic Games in Tokyo. Her average driving distance this year is 272 yards, which ranks 8th on the LPGA Tour. And she's ranked 4th on Tour in sub-par holes with 307 birdies or eagles. Perhaps her most famous was the hole-in-one she made on the first day of the 2023 Solheim Cup matches, only the second ace in the event's history.
So, no, you can't relate to how Pedersen plays, especially after she made 15 birdies and an eagle in the first 36 holes at Pelican Golf Club, a course that every player in the field complimented for its conditioning and difficulty.
But you can relate to one aspect of Pedersen's game. When she hits a bad shot, she lets you know it.
Whether it's a one-handed finish and a disgusted stare or kicking the grass and tossing her club at the bag like a rotten piece of meat, Pedersen wears her feelings on her sleeve. She's gotten better. Fewer clubheads get buried in the turf than earlier in her career. But the sentiment is still there.
Fans love it. "Hey, that looks like my group," and "I know exactly how you feel," are standard refrains.
But, after the mini-tantrum, Pedersen, who is leading an LPGA Tour event for the first time in her career and is looking to break into the season-ending CME Group Tour Championship, goes back to being a professional – different than other average, amateur golfers. Just like that, she puts her anger aside and gets on with her business.
"It's taken ten years (to get to this point)," Pedersen said with a smile, just to prove the point. She finished Friday with a bogey on the par-3 9th, her final hole, after hitting a ball in the water right of the green. In days of old, the club might not have survived, nor would her score. But she held it together, took a drop, and got up and down for bogey to set a new 36-hole tournament scoring record.
"Oh, that means a lot," Pedersen said. "Glad I holed the last putt then. I didn't know. It's always good to break some records out here. I feel like the girls are so good and it's such low scoring, so that's cool."
Back to her ability to compartmentalize the anger, Pedersen said, "I'm just thinking about not making two mistakes in a row. When I hit one bad, sometimes I'm trying to keep (the emotion) inside, and it just builds up in my head. I need that release to get it out. My mental coach says, 'You have five seconds, and when those five seconds are over you have to look forward to the next shot and think about the next shot.'
"Sometimes I take a little bit more than five seconds. But I think trying not to make two mistakes in a row is a mindset that I'm really trying to do. So if I made bogey, my biggest goal on the next hole is to hit the fairway and try to build from there."
This weekend, Pedersen will try to build on the good momentum she has felt going back to that Solheim Cup in Spain when her Friday afternoon ace sparked the Europeans to a huge comeback.
"I think maybe when the gun is to my head, it sharpens my focus," she said. I can't think about what's happened in the past and what's going to happen (in the immediate future). I can only think about what is right in front of me."
What is in front of her is a possible maiden victory on the LPGA Tour, a trip to the tour championship next week, and bragging rights as the first winner of this event since it became The ANNIKA.
A lot at stake for a young woman from Copenhagen whose emotions are never far from the surface.
No matter what, Pedersen will be fun to watch throughout the weekend.
Back to News