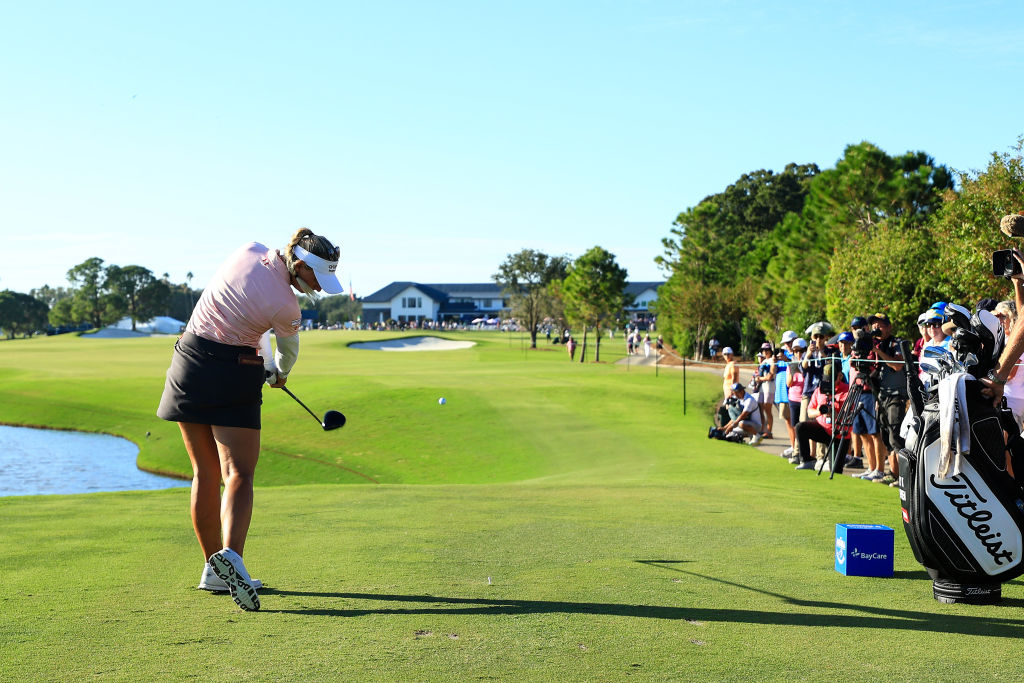 Pedersen Primed for Run at The ANNIKA driven by Gainbridge at Pelican
BELLEAIR, Fla. – Golf has always battled the analytical mind. Look at the smartest players you know - Tiger Woods, whether you're a fan or not, has always been brilliant. In Gee Chun is a certified genius who sees mathematical equations the way the rest of us see colors. And Morgan Pressel, even though she never went to college, has the kind of self-taught intelligence that is one in a million.
Intellect isn't the only thing they have in common: To a person, they all fight the tension between their active minds and the game that they play at the highest level.
You can add Emily Kristine Pedersen to that list. The 27-year-old from Copenhagen, Denmark is a shot off the opening-round lead at The ANNIKA presented by Gainbridge at Pelican after firing a 7-under par 63. Pedersen's round included seven birdies and an eagle. If not for the bogeys on the par-4 4th and the difficult par-4 18th, she would have set the course and tournament record. Instead, Pedersen is tied with Minami Katsu, Jin Young Ko and Patty Tavatanakit, one shot behind Brooke Henderson.
The connection to the tournament host looms large for Pedersen who first burst onto the scene when she was a captain's pick for Annika Sorenstam's European Solheim Cup team in Des Moines in 2017. But those aren't fond memories. Her struggles and the pressure she felt that week put her into the kind of slump that often ends careers.
*
Pedersen battled back with the right combination of talent, strength and work ethic.
Her problem, like Tiger and others, is her perfectionist nature. One bad shot and a clubhead might end up in the sod – a not atypical reaction from a genius when things don't go according to plan.
Now, after five wins on the Ladies European Tour, Pedersen feels like she is ready to break through on the LPGA Tour, thanks to some mental conditioning and self-talk that have her game on the rise.
"I've grown up a little bit I think," Pedersen said when asked to pinpoint the keys to her upward trend. "The older I get I've learned to take a little bit more responsibility for my practice. What I'm doing lately is trying to be a little bit harder on myself in practice and nicer to myself on the golf course."
A person with demanding standards can't dial it down all the time. For Pedersen, the key was to shift the intensity from the rounds to the practice tee.
"It's been the other way around for quite a few years," she said with a laugh. "I'm really trying to manifest that, trying to manifest that we overestimate what we can change in a day, but underestimate what we can change in a year. I'm trying to keep that in mind all the time."
It's not easy. You cannot simulate the pressure of tour competition on the range. But you can be intentional and intense when you do practice.
"I'm trying to focus even more when I make a swing change, and I just really try to be hard on myself, be detailed in trying to do it and not just be like, even if I hit it well, then I want to see better results. So my target practice gets tighter and hopefully I can feel like it's not always that difficult when I come out and play on the golf course."
How that will translate into the rest of the week at The ANNIKA, is anyone's guess. Pedersen has never led at the end of any LPGA Tour round and would love nothing more than to be in that position on Sunday.
"I'm just going to keep trying to do the same things," she said. "There are so many good golfers out here. Every week it's such low scores. You need to have probably that 20-under as a target every single week, and that's still 13 more under for me to get to that.
"That is a long way, a lot of birdies. I know there will be tougher pins on the weekend and can really be some sucker pins out here. I'm just trying to put that good swing on every single shot.
"You have to be smart."
On that last point, Pedersen is already ahead of the game.
Back to News