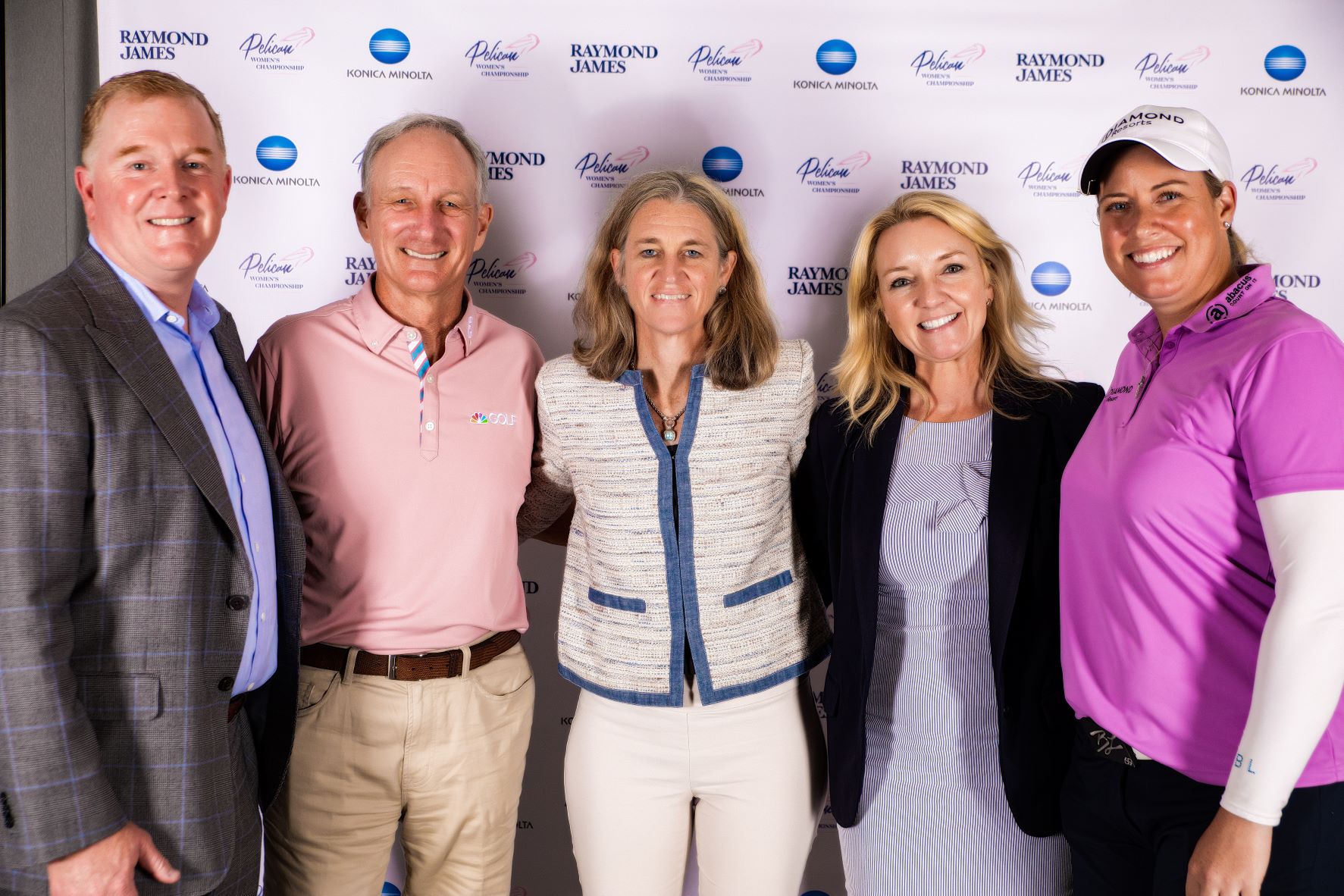 Pelican Golf Club Excited to Welcome Fans & World's Top Players for '21 Pelican Women's Championship
By JAY COFFIN
BELLEAIR, Florida – Last year was just a dress rehearsal. Those are the exact words of Dan Doyle Jr., owner of Pelican Golf Club, host of the Pelican Women's Championship presented by Konica Minolta and Raymond James.
The inaugural playing of the event was last November. Sei Young Kim, fueled by a third-round 64, won by three shots. It was a successful week on a challenging golf course, but fans were not allowed on property because of COVID-19 restrictions. That's what prompted Doyle Jr., to use the words "dress rehearsal."
This year is going to be vastly different.
Since that final putt dropped 11 months ago, the collective team at the Pelican Women's Championship has done extensive homework. They've studied other LPGA events. They've quizzed players on likes and dislikes about life on the LPGA. They scoured comment cards from last year's event and have vowed to take care of the smallest of details.
With one month remaining before the first competitive ball goes in the air, they're ready to welcome a great field of players, sponsors and galleries back for the second playing of the event on November 11-14.
"The idea is we want to turn this into an incredible event," Doyle Jr., said recently at Pelican Golf Club. "We're not there yet, but we will get there.
"I'm going to tell you we're going to take it to the next level."
This golf course has special meaning to Doyle Jr. Formerly known as Belleview Biltmore Golf Club, the track originally was designed by Donald Ross and opened in 1925. It's where Doyle Jr. learned the game as a child, where he paid $120 during the summer and played as much golf as he wanted each day from 2 p.m. to sundown. He figures he did that at least four consecutive summers during his middle school and high school years.
So, when the course was looking for a facelift four years ago Doyle Jr. and his father Dan Doyle Sr. bought the club, upgraded all the facilities, renovated the course and turned it into what it is today, an 18-hole beauty that has been described as a second-shot golf course with greens that have severe contours and extreme movement.
The project was not yet complete when Director of Golf Justin Sheehan suggested it would be a good idea for the facility to host an LPGA event. The Doyles agreed, met with former commissioner Mike Whan and came to agreement, making the Pelican Women's Championship the first full-field women's event in the Tampa Bay-area since the USX Golf Classic in 1989 at Pasadena Country Club in nearby Gulfport.
"To think there hasn't been an LPGA even since here in the '80s is mindboggling to me," said NBC Sports golf analyst and Pelican Golf Club member Gary Koch. "Hats off to the Doyles for stepping up and to Justin for coming up with the idea.
"Tampa Bay is a golf community," continued Koch. "The number of people that play the game, both men and women, is staggering.
Having been in the Tampa Bay area since 1968 when I moved here, to see an event of this magnitude come to my hometown is very impressive."
Brittany Lincicome, a native of the area, is thrilled to have an event on the schedule where she's able to sleep in her own bed. She tied for 46th place last year but none of her family was in attendance to see her do her thing.
"I should probably put my request in now for extra tickets," Lincicome joked at a recent media luncheon at Pelican Golf Club. "My brothers don't ever get to watch me play, so to be so close to home and now being able to have fans again, a lot of friends and family are going to come out.
"It'll be cool to have them come out and get to see what I do and help support me."
New LPGA commissioner Mollie Marcoux Samaan was on hand for the media luncheon and agrees with Lincicome's sentiments, although she took the notion a step further, noting she's thrilled that the LPGA can host an event in a town that can boast about the championship success of its Buccaneers, Lightning and Rays.
"It's not just a great golf town but a great sports town," Marcoux Samaan said. "There are a lot of championships here, a lot of winning teams, and being a part of that for us is phenomenal, sort of associating yourself with winners in every way."
Doyle Jr. and his team have that same winning attitude and have exciting plans in place for this year's event. Food in the player dining area will be upgraded. The massive workout facility is complete and will be available at any time. Doyle Jr. wants the par-3 12th hole, over water, to be loud and rowdy. A two-year lease on a Lamborghini will be given to a player who records a hole in one there this year. If it happens, the recipient will be allowed to pick the color.
"Bright orange," Lincicome quipped. "Maybe lime green."
Everyone at the Pelican Women's Championship is on the same page. They'll strive to do better this year than they did last year. After this year's event is complete, they'll regroup and strive to do better next year. It's something they all collectively refer to as the "Doyle fashion."
"My dad is tough, in a great way," Doyle Jr. said with his father looking on. "Once I tell him, 'Hey, we're perfect,' he's going to go, 'no, we're not, we've got to figure out how to get there.'
"That's how I was raised and that's what we're going to continue to do with this tournament."
Back to News