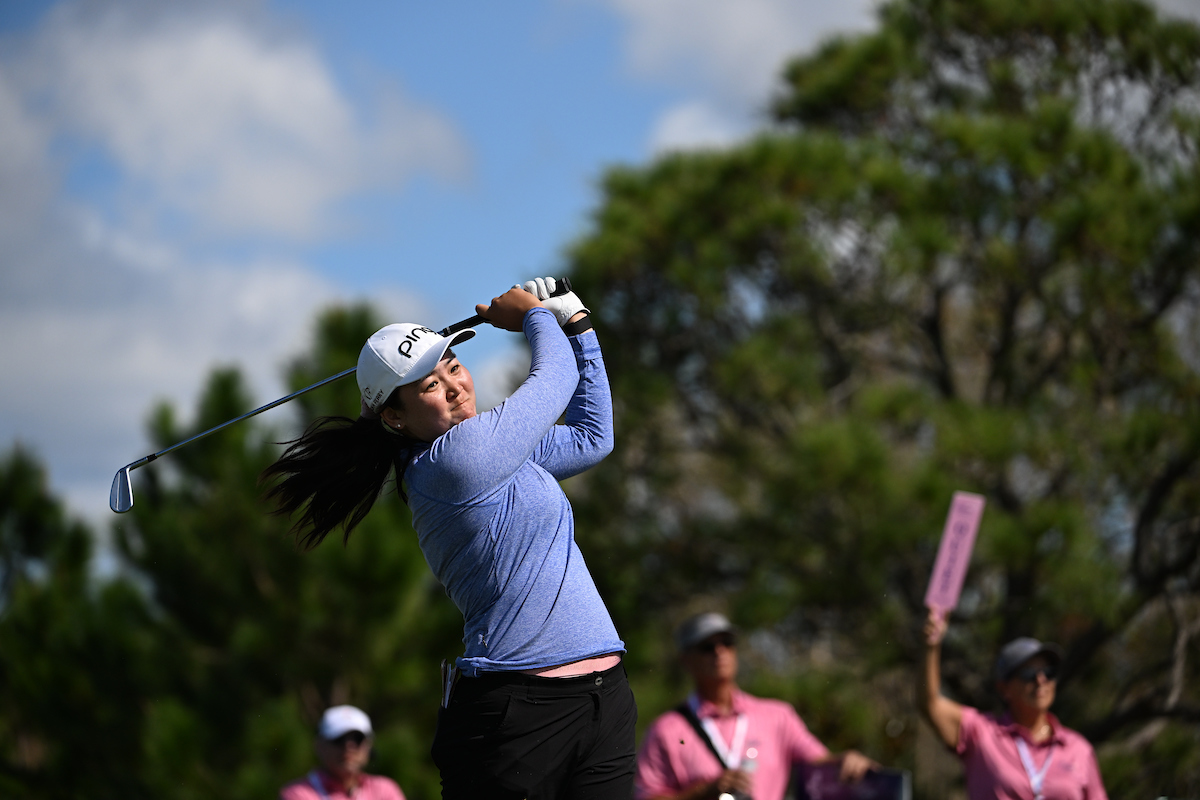 PELICAN SETS UP FOR A STIRRING SUNDAY SHOOTOUT
By Jeff Babineau
BELLEAIR, Fla. – The third edition of the Pelican Women's Championship sets up much the way that last year's championship left us, with lots of potential drama on tap. There is a very talented crop of pace-setters, and very little space separating the names on top of a leaderboard more crowded than a St. Petersburg beach.
Allisen Corpuz, a 24-year-old rookie by way of Hawaii, leads after shooting a second consecutive 5-under 65, a round that pushed her to 10-under 130 through 36 holes. With 18 holes to play, she finds the view from the top to be quite nice – though she might not wish to look down.
Behind Corpuz, some big names lurk. A group at 9 under includes Lexi Thompson, an 11-time LPGA winner who fell short in a playoff a year ago; first-round leader Maria Fassi, who found birdies more difficult to locate on Saturday; and Maja Stark, a long-hitting rookie from Sweden who already has won on tour this season.
"I think yes, experience helps, but at the same time, golf is such a crazy game," said Thompson, who shot 3-under 67. "Anybody can have their days out there and can bring their 'A' game. That's what you never know about it.
"There are so many great players out here. You have to play your top-notch game every time you tee it up, and you have to make birdies and shoot low."
Defending champion Nelly Korda will start the final round two shots back after a second consecutive 66. Korda, 24, prevailed in a four-way playoff a year ago to collect her fourth win of 2021, capping a magical season in which she also won her first major (KPMG Women's PGA), rose to World No. 1, and won Olympic gold in Tokyo. Her 2022 season, slowed by surgery to remove a blood clot in her left arm, has yet to include a victory. Alongside Korda, just two shots back, is Spain's Carlota Ciganda (68).
Two of Sunday's top contenders, Corpuz and Stark, are rookies. Good thing these are not your average rookies. In fact, Corpuz, 24, and Stark, 22, already have gone head-to-head against each other with an LPGA title at stake, with Stark prevailing at the ISPS Handa World Invitational in Northern Ireland three months ago. Stark's victory delivered with it her LPGA card (the ISPS Handa is co-sanctioned by the LET and LPGA), and she has been playing just about every event she can.
A year ago at this time, Corpuz was getting ready for the LPGA Q-Series, where she would earn her card. She and Stark have had little difficulty fitting right in as they navigate play at the highest level of women's golf. Corpuz said she thought keeping a card would be more difficult than it has been, honestly. But she has been very consistent, posting a pair of top-10 finishes (including the runner-up showing in Northern Ireland) and earning more than $518,000.
Corpuz ranks 44th in the Race to the CME Globe standings. Stark will be there in Naples with her, also well inside the top 60. It's a heady accomplishment for first-year players to be there.
Also hoping to make noise on Sunday is Spain's Ciganda, a two-time LPGA champion and five-time member of the European Solheim Cup team. Ciganda, who injured her left ankle last week in Japan and didn't know if she'd even be able to play this week, shot 68. Her heavily taped ankle bothers her some while walking, but it feels fine as she is hitting shots.
"I'm playing good. I think I'm playing good enough to win tomorrow, so I think just do the same," said Ciganda, who is seeking her first LPGA title since 2016. "Give myself lots of birdie opportunities and hope it's enough to have a win on Sunday."
Korda got off to a torrid start on Saturday – she birdied four straight holes with a wedge in her hand starting at the fourth – but cooled on her second nine, finishing with a round of 66. She lives a short drive down the coast in Bradenton and loves everything about playing in Florida. Producing a victory at the end of a season that has been anything but normal would be a nice way to go into 2023.
"It's been a tough year, for sure," Korda said. "I worked my butt off as well. I definitely put in a lot of hours, so it would just be hard work paying off ... which, everyone out here works really hard, so everything just has to click for someone to win that week."
A year ago, Korda produced a wild finish by making triple-bogey 7 at her penultimate hole of regulation, the par-4 17th, and followed that with a birdie to end her round, and then one more bonus birdie at 18 to end a four-way playoff. The tournament was Thompson's to win, but she missed putts inside 6 feet on her final three holes.
Corpuz knows that Sunday represents a golden chance to join the LPGAs roster of winners. Being a rookie on any tour can be an intimidating spot to be. Has Corpuz surprised herself with her play?
"A little bit," said Corpuz, who was a standout at USC and played on last year's U.S. Curtis Cup team. "Definitely before coming on tour I was expecting like I maybe really would be working for my card, and I'm really lucky that I'm not having to worry about that at this point.
"I think I know that I'm a really solid player, and it's just really nice to have seen the results this early. Yeah, really looking forward to just working hard and continuing that."
Saturday, she had the added bonus of peering over to leaderboards that had her name at the very top. How cool. That certainly produced a warm and fuzzy feeling. When she first saw the golf course this week, Corpuz thought it might be too long for her. After all, she ranks 116th in driving distance (252.14 yards). But in two rounds, she has hit all but two fairways, missed only seven of 36 greens, and made 13 birdies.
Is she ready to win? Corpuz could be 18 holes away, though there are lot of players who are hoping to have their say, too. At the third edition of the Pelican, fans could be in for a wild finish.
Back to News