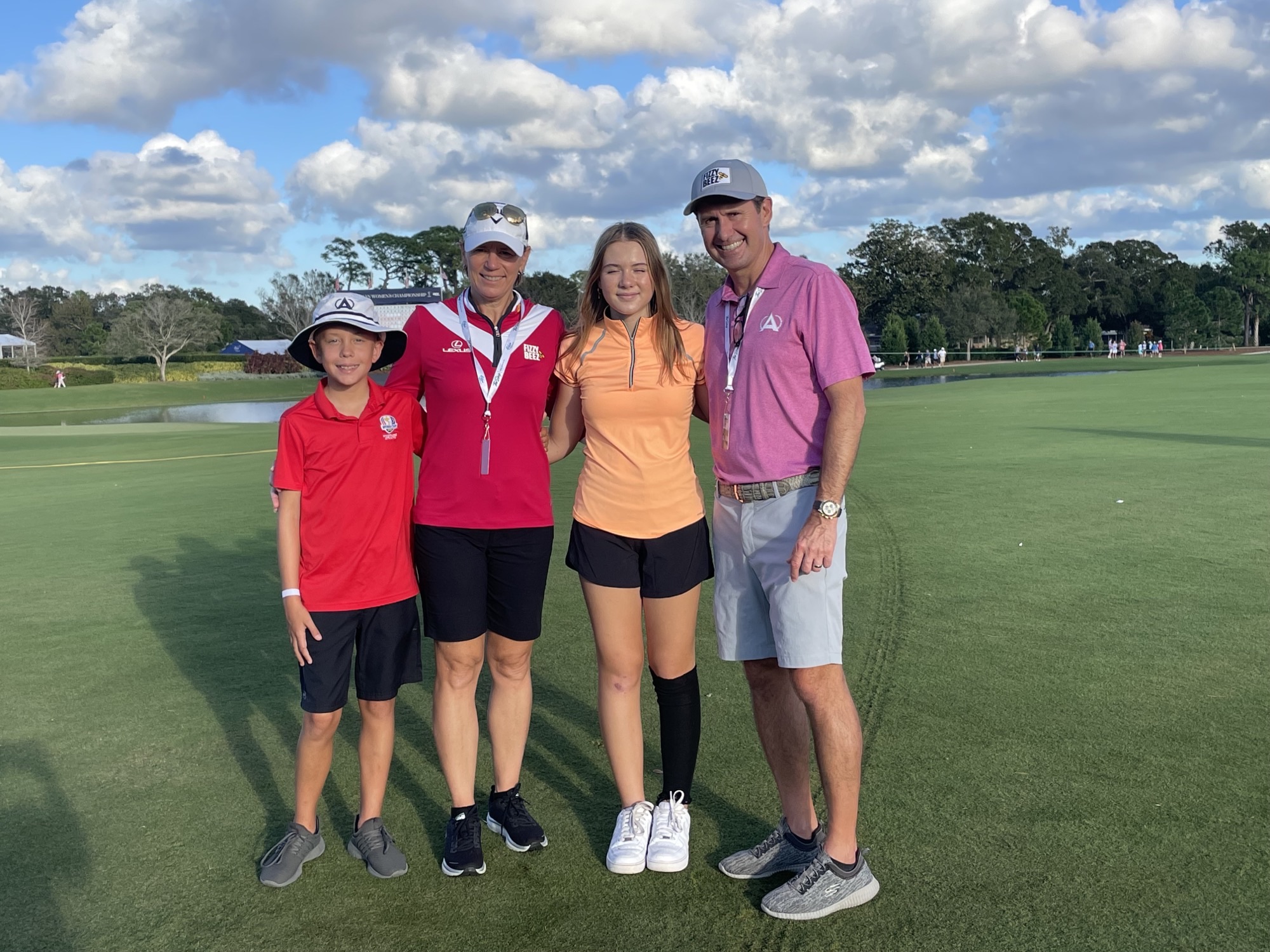 SATURDAY ROUND TWO NEWS AND NOTES: FOR A DAY, ANNIKA THE GOLF FAN
FOR A DAY, ANNIKA THE GOLF FAN
Annika Sorenstam, winner of 72 LPGA titles, including 10 majors, was on the grounds at Pelican Golf Club on Saturday, seen signing a bunch of autographs for many of the young girls who attended an RSM Junior Golf Show on the range conducted by Charlotte Thomas. Sorenstam was here with her husband, Mike McGee, and their two children, making the trip from Orlando, where they live.
Next November, Sorenstam will have a much bigger role in the event. The tournament will become THE ANNIKA driven by Gainbridge at Pelican. Sorenstam will be the host, her foundation (ANNIKA Foundation) will be a chief beneficiary, and the purse will increase from $2 million to $3.25 million, making it one of the most lucrative non-majors on the schedule.
MAGUIRE GETS THE PUTTER ROLLING
Leona Maguire struggled with the putter in the first round, but holed a 15-footer for birdie at the first hole Saturday and was off and running. She made six birdies in her front nine, turning in 29, and shooting 59 even crossed her mind. "The hole looks pretty big at that point, so I was just going for it as much as I could," she said.
But her tee shot at the par-3 12thpitched short, spun down a bank and finished in the water, leading to a double-bogey 5. Maguire did add two more birdies coming home, including a 5-hybrid from 176 yards to inches at the par-4 18th, and finished with a 64. Annika Sorenstam is the only player in LPGA history to have shot 59 in competition.
ONE IF BY AIR ...
Sunday's champion of the Pelican Women's Championship not only will receive a $300,000 winner's check, but will long remember the trophy presentation, too. The trophy will be hand-delivered by the Para-Commandos aerial parachute demonstration team, which is based out of nearby MacDill Air Force Base in Tampa. The Para-Commandos are the only joint (all services) and combined (international partners) in the U.S. Department of Defense.
The team comprises the Army Special Forces, Army Rangers, Navy SEALs, Air Force Combat Controllers and Marine Raiders. ... Brooke Henderson, one of the players who still was in the hunt for Rolex Player of the Year, withdrew during her second round, not providing a reason. She shot 71 in the first round and entered the week fourth in the Race to the CME Globe standings. Also withdrawing: Cristie Kerr (prior to the round, wrist injury) and Peiyun Chien.
Back to News