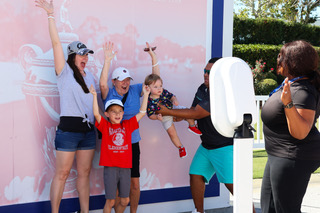 Say Cheese
By Carson Racich
BELLEAIR, Fla. - Elevating this year's tournament starts right away when you enter through the main gates at Pelican Golf Club. Capturing the excitement before even stepping foot on the grounds is what Toi and Kirkland Small, founders of Party Cube Live, do best.
"The fun starts right away, and we see that excitement from both the adults and the kids", said Toi. "We want to make sure that we are able to help capture those moments by providing the best photo op in Tampa."
Choosing poses and feeling uncomfortable is not a choice when you step into Toi and Kirkland's booth. Toi and her infectious personality creates a comfortable and fun environment for all. She's a professional in helping direct fans through the intimidating process. She swears it's easy.
"I walk fans through the quick process. Then when the time starts to count down, I'll tell them to change poses. Sometimes I'll ask them to give me something funny and they get pretty creative and we'll be laughing non-stop", giggled Toi. "I even have people who know what they are doing and really get into creating boomerangs. It's really geeking here."
While some people feel intimidated by the camera, the personalities that fill the air from Toi and Kirkland are drawing people in to step out of their comfort zones and in front of a lens.
"We get a lot of people who shy away for sure, but when they see us interacting with a different group, you can see how fast they turn around to get in on the action." expressed Toi.
Party Cube Live is not just a person lugging a camera around where you have to wait for a QR code and pay for a copy online. Party Cube Live is a digital and interactive photo booth where you walk away with your photos in hand.
"It's all about creating the memories while being in the moment" Toi said. "When they get to walk away with their photos, they get to look back on their experience here."
Party Cube Live was a company started 5 years ago looking to provide an experience for events across the Tampa Bay area. Over the last year, the company has reached all across Florida shooting a handful of different events.
"We get to do a little bit of everything, wedding and bar mitzvahs to name a few," emphasized Toi "but nothing at this level [referring to an LPGA event]".
Having an emphasis on customer experience and connection seemed to pay off for Toi and Kirkland. The two had received a phone call from Gainbridge themselves to ask to partner at this year's, The ANNIKA driven by Gainbridge at Pelican.
"We had been referred to Gainbridge and Parodi by other companies and events that we had done" expressed Kirkland. "I guess we are doing something right".
Despite not being golfers themselves, Toi and Kirkland were eager to take the invitation presented by Gainbridge and be a part of the legacy here at Pelican Golf Club.
"For our first golf event, it's pretty amazing that we get to come out of the gate at The Annika, the skies are the limit now", Toi emphasized. "We are just so appreciative they saw something is us and now we are ecstatic to support the LPGA as well as be a part of it".
Toi, who did not grow up a golfer but had a father who played, expressed a new understanding for the game since getting to be a part of the action.
"There's a huge mix of exhilaration at every corner out here. Folks are just so excited to get out here and watch. It really is so inspiring", Toi said. "I've been humbled, the players are not only out here performing but they are so personable and kind. They really are human too."
The tournament is not over yet, butToi and Kirkland are already thinking about next year and what they can do to elevate as well.
"People must love it, we are getting so many tags on social media", Toi said eagerly. "I can't wait for what we can do for next year already".
Back to News