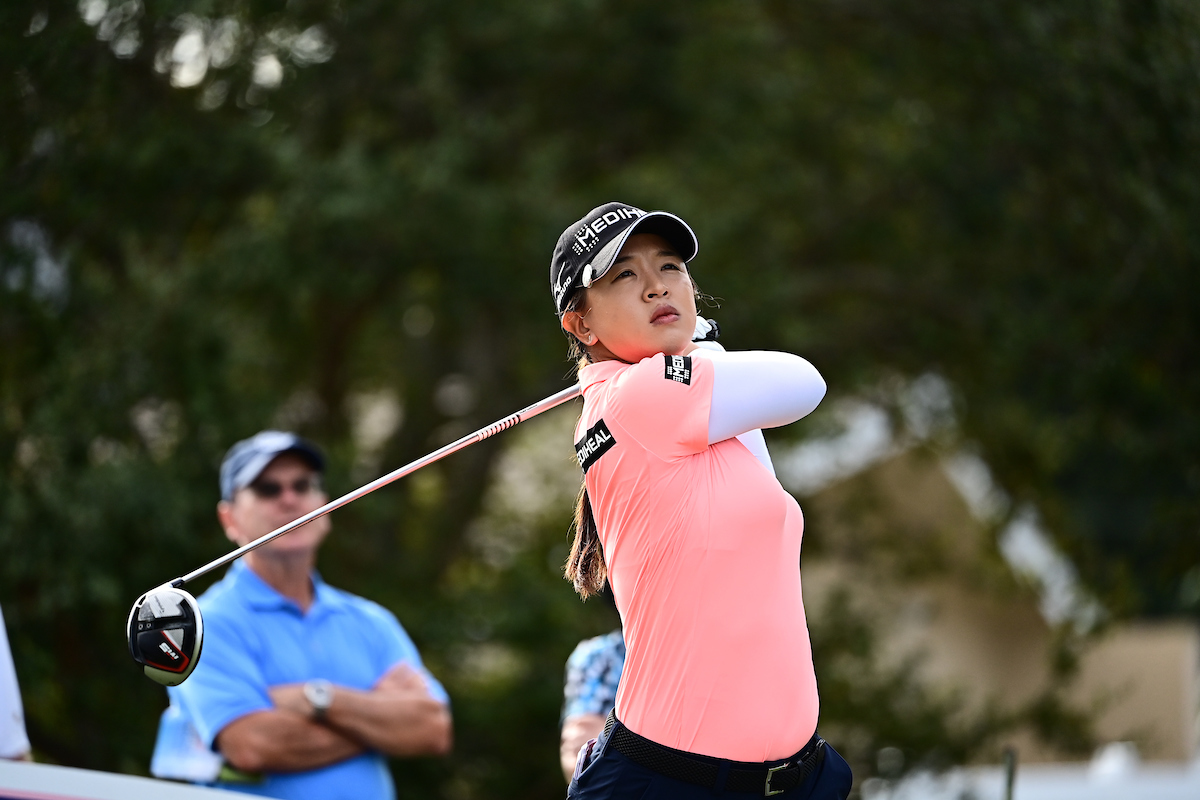 Sei Young Kim Fires 64 With Uncluttered Mind
BELLEAIR, Fla. - She didn't know how good it was. When defending champion Sei Young Kim finished her opening round at the Pelican Women's Championship presented by Konica Minolta and Raymond James, she stood outside the scoring tent and accepted congratulations for her 6-under par 64, a number that equaled the tournament low a year ago. "Yeah, our entire group played pretty well," Kim said. When told that tournament leader Leona Maguire, who played in the same threesome, had just shot a new course and tournament record, Kim took a step back and said, "Really?" Then she checked the scores on her phone and said, "Oh, wow, we're one, two and three right now."
Indeed, Maguire led with a blistering 8-under 62, followed by Kim's 64. The third member of the group, Lexi Thompson, shot 5-under 65 to be tied for third deep into Thursday afternoon. Not only were they 19-under par as a group, the three did not have a single bogey between them.
"I birdied the first three holes, so I got off to some really good momentum," Kim said. "Lexi and Leona were playing well, too, so I fed off of them.
"I didn't check the leaderboard, so I thought because my group was playing well, other people must be playing well, too. I expected everyone to play well. But I checked the leaderboard (after the round) and saw that our group really played well. So, yeah, we all fed off of each other."
Kim knows this golf course as well as anyone can, winning the event last year in a battle with Ally Ewing. If there is one thing the defending champion brought into this week, it's the determination not to be out of position on these treacherous, undulating greens.
"You need to play really smart," she said. "If you miss on the wrong side you can have some really tricky chipping. Your iron shots are very important, which means getting the right number. You don't always have to be aggressive. You just have to be smart."
Kim knows when to attack and when to play for the center of the green. She also has a habit of asking for a lot of information when she isn't hitting it well – front-of-green numbers, carry numbers over bunkers, middle-of-the-green numbers and meters to the flagstick. But when she's playing well, she unclutters her mind.
"This week I told my caddie to just give me one number to the pin," she said. "Then it just depends on where the pin is. If I have a front pin, I just pitch it on the front. If the pin is back, I just pitch it in the middle. I play as simple as I can.
"So, I told my caddie, don't give me a lot of numbers. Just one number."
Kim, who is also the reigning Rolex LPGA Player of the Year, tees off with Maguire and Thompson again on Friday at 12:10 p.m. Eastern time.
Back to News