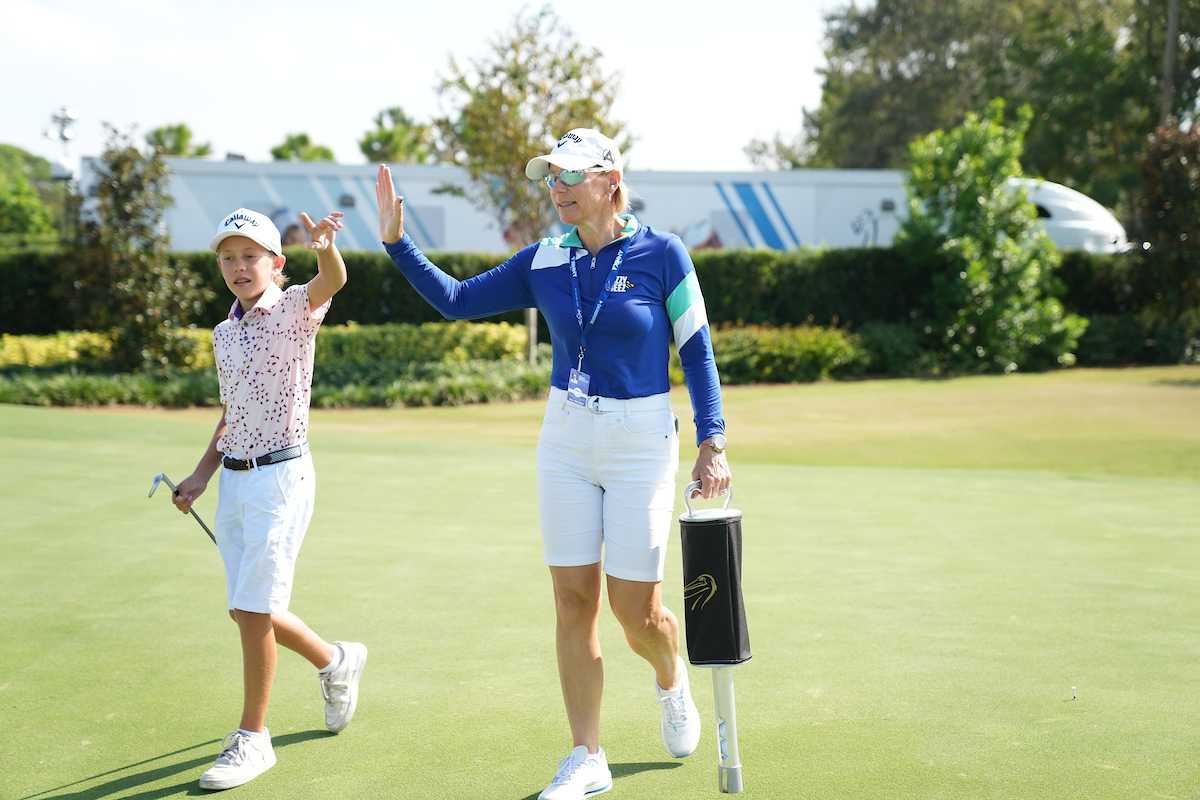 Sorenstam's whirlwind week at The ANNIKA
BELLEAIR, Fla. – The week started with a surprise and ended with the kind of drama everyone hopes will become standard. When Annika Sorenstam showed up early on Monday, she caught her breath. "I walk around here and see my name everywhere," Sorenstam said of seeing Pelican Golf Club, site of The ANNIKA driven by Gainbridge at Pelican. "It's great. The branding is fantastic. It's just weird when it's your name and you see it everywhere."
Sorenstam, herself, was also ubiquitous throughout the week. When she wasn't giving interviews – radio, television, podcasts and every print golf reporter left in Central Florida – she hosted a women's summit, signed autographs, posed for selfies and listened to stories from random fans. "Ms. Sorenstam, I saw you win the Betsy King Classic in Pennsylvania back in 1996," one fan said. The look on Annika's face told all that she was searching through memories of her 72 LPGA Tour wins for the CoreStates Betsy King Classic, which she won by eight shots.
"This is a dream come true and a different chapter in my life," the Hall of Famer said. "It's still a little bit surreal to see my name on the tournament. It's been everywhere. But I'm very thankful for that.
"My passion to give back to the game has not got any less or any smaller.
"I think women's golf has come a long way, but there is still more to go and more to do. Yeah, I'm proud, but that doesn't mean we're settled. You know us. We keep going. We keep going forward and higher and better, hopefully.
"I want to take this role seriously. And I'm having fun. I was here Monday and we did some things. On Tuesday we did some more things; we had the Women's Summit and then I played in the pro-am. Yeah, it's been a lot. I think I was more active this week than maybe when I played, because I'm kind of everywhere talking to the partners, volunteers, and just getting a good feel for the whole tournament."
On Saturday, Sorenstam started early at a Veteran's Day ceremony beneath the giant American flag at the Pelican clubhouse. She greeted every veteran and listened as long as they wanted to talk.
Later, she went into the Golf Channel booth during the broadcast. Then she hustled to the range to give a junior clinic to kids from the First Tee Clearwater. Right after that, she and her family drove to Tampa for the Carolina Hurricanes – Tampa Bay Lighting hockey game. Between the first and second periods, Sorenstam was recognized at center ice where she was given a Lightning jersey with her name and the number 59 on the back.
Sunday was much of the same. It was her husband Mike McGee's 49th birthday and Annika spent it making the trophy presentation to Lilia Vu, who fired a 66 to reach 19 under and win by three over Alison Lee. In the process, Vu returned to No.1 in the Rolex Rankings as well as the top spot in the Rolex LPGA Player of the Year race.
Sorenstam didn't see much live golf – just highlights. She was busy making sure everything met her exacting standards.
"I think it's been really successful," Sorenstam said. "I do have my feelers out there with some of players. I am waiting to hear from them to really get a feel for what they think. I want to hear how they experienced it; how they feel, whether it's the parking, the food, the practice. At the end of the day, we want to create an amazing tournament and we want players and partners to feel good about it. The best way to improve it is to hear from them.
"I've spoken to several members and they love it, so that's a good start. That means we can continue to be here. And we can hopefully continue to provide an amazing experience.
Vu agreed. "This tournament has been world class, from the golf course, to the members, the fans, the volunteers, the whole setup has been phenomenal. I feel like it's been really great."
Then Vu was asked where this event ranked on her priority list. Keep in mind, the 26-year-old won two major championships and the Rolex Annika Major Award in 2023. But she didn't hesitate.
"I think (it's) second best, just after the Open," Vu said. "I thought about it a lot. I think I want more wins in America, and to add this one to my results has been really great. And for it to be Annika's event is just amazing."
Back to News