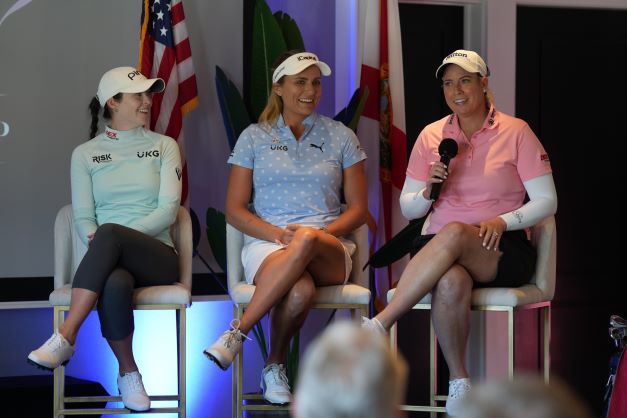 The 2022 Pelican Women's Championship: 'How Can We Make This Golf Tournament Better Each Year?'
By Jeff Babineau
BELLEAIR, Fla. – Nelly Korda kept her head down and kept making birdies in the penultimate round of last year's Pelican Women's Championship at Pelican Golf Club, shooting a third-round 63 that would help to position her for victory in a playoff a day later.
On that Saturday, as Korda played one of the better rounds of her magical 2021 season, officials in charge of the tournament at Pelican were equally laser-focused. As fans around them enjoyed the weekend magic of a star-filled leaderboard, Dan Doyle Jr., who co-founded the club with his father, and Marci Doyle, the tournament's first-year executive director (no relation to Dan), were busily walking the golf course, jotting down notes, taking on a shared mission.
How can we make this golf tournament even better?
With that ambitious goal in mind, welcome to the third edition of the Pelican Women's Championship, which gets underway beginning Thursday along Florida's Gulf Coast. This year's field (120 players) is the tournament's strongest to date, featuring seven of the top 10 players from the Rolex Rankings. The purse has been boosted to $2 million, making it one of the larger non-major stops on the LPGA schedule. The golf course is in prime shape – in fact, "the best shape it's ever been in since it opened," said NBC golf analyst Gary Koch, a longtime Tampa-area resident and Pelican club member.
LPGA competitors were asked to critique last year's event, and some felt the practice putting green was a tad too crowded. This week, they arrived to find a practice green that has doubled in size. At Pelican, it's all about giving the best female players in the game the full member's experience.
"It's just the little things that they've really taken into consideration about just trying to make this event bigger and better," said Tampa-area resident Brittany Lincicome, who returns to the LPGA this week after maternity leave following the birth of her second child. An eight-time champion on the LPGA, Lincicome will make her first start since the KPMG Women's PGA Championship in June.
"The purse size, obviously fantastic," she said. "Everything about is really top-notch. Just cool to see the Doyles and how much they care about the LPGA and taking care of us. We love what we do, and it's sponsors like them that make us really love our jobs more, for sure."
Adds Dan Doyle Jr., who learned to play golf on this reimagined 1925 Donald Ross original as a youth, "I want the ladies to say this is a 'must' on the calendar, and 'We're not going to miss this event.'"
Korda, 24, who resides in Bradenton, just down the west coast, is back to defend her title in the LPGA's second-to-last event of the season (and last full-field event, leading into next week's CME Group Tour Championship in Naples for the top 60 qualifiers).
A year ago, Korda's victory in a four-way playoff at Pelican – Korda, Lexi Thompson, Sei Young Kim and Lydia Ko all tied at 17-under through 72 holes of regulation – was the capper on a season during which she won four times, including her first major, captured Olympic gold in Tokyo and rose to No. 1 in the world. (Currently, she is ranked fourth, with 19-year-old Atthaya Thitikul of Thailand at No. 1.)
Korda let the others in at the finish last year when she made triple-bogey at the 17th hole. Korda was able to gather herself, focus on the positives of her position in the tournament, and answer with a birdie at the difficult par-4 18th, where she rolled in a 21-foot putt. Her putt for birdie in the playoff was two feet longer, but she made that one, too.
Thompson had a chance to win in regulation and another chance to extend the playoff to a second hole, but missed two putts from inside 5 feet. A year later, Thompson, an 11-time winner at age 27, said she will be a year wiser, and better for the experience.
"I feel like every time I tee it up there is something to be learned," said Thompson, who arrives to Pelican Golf Club seeking her first LPGA victory since 2018. She is a three-time runner-up in 2022. "Last year in particular, I would say (I learned) just being more relaxed. I needed to be in the moment a little bit more, and just make sure I slowed down a little bit.
"I think that's just golf. It's such a mental game, and you're always learning. I just took the positives, and I played great. Just wasn't my day."
Marci Doyle, who previously was tournament director at the PGA Tour's Arnold Palmer Invitational in Orlando, continues to seek ways to make the Pelican Women's Championship bigger, better and bolder. (A significant announcement about the Pelican going forward is expected on Tuesday.) She finds similarities in the way that Arnold Palmer wished to host a tournament with the importance that the Doyle family places on hospitality at Pelican.
"As Dan (Jr.) says, it's all about, 'Ok, how do we make it better?'" Marci Doyle said. "... That's what Dan (Sr.) and Dan (Jr.) want to do. They always want to be putting on a better show, and, how do we make it better for everyone else?"
Tickets to the Pelican Women's Championship are available at www.PelicanLPGA.com. All military (plus one), which includes active, reserve, retired and veterans, will receive complimentary admission by showing proper identification at Admissions, where they will receive a daily grounds pass. The Hero's Outpost on the par-3 12th hole offers free snacks, drinks and a viewing deck for military members (plus one). Children 17 and younger are admitted into the Pelican Women's Championship free with a paying adult.
To follow the tournament on Social Media: Twitter and Instagram, @pelicanLPGA; and on Facebook, Pelican Women's Championship.
Back to News