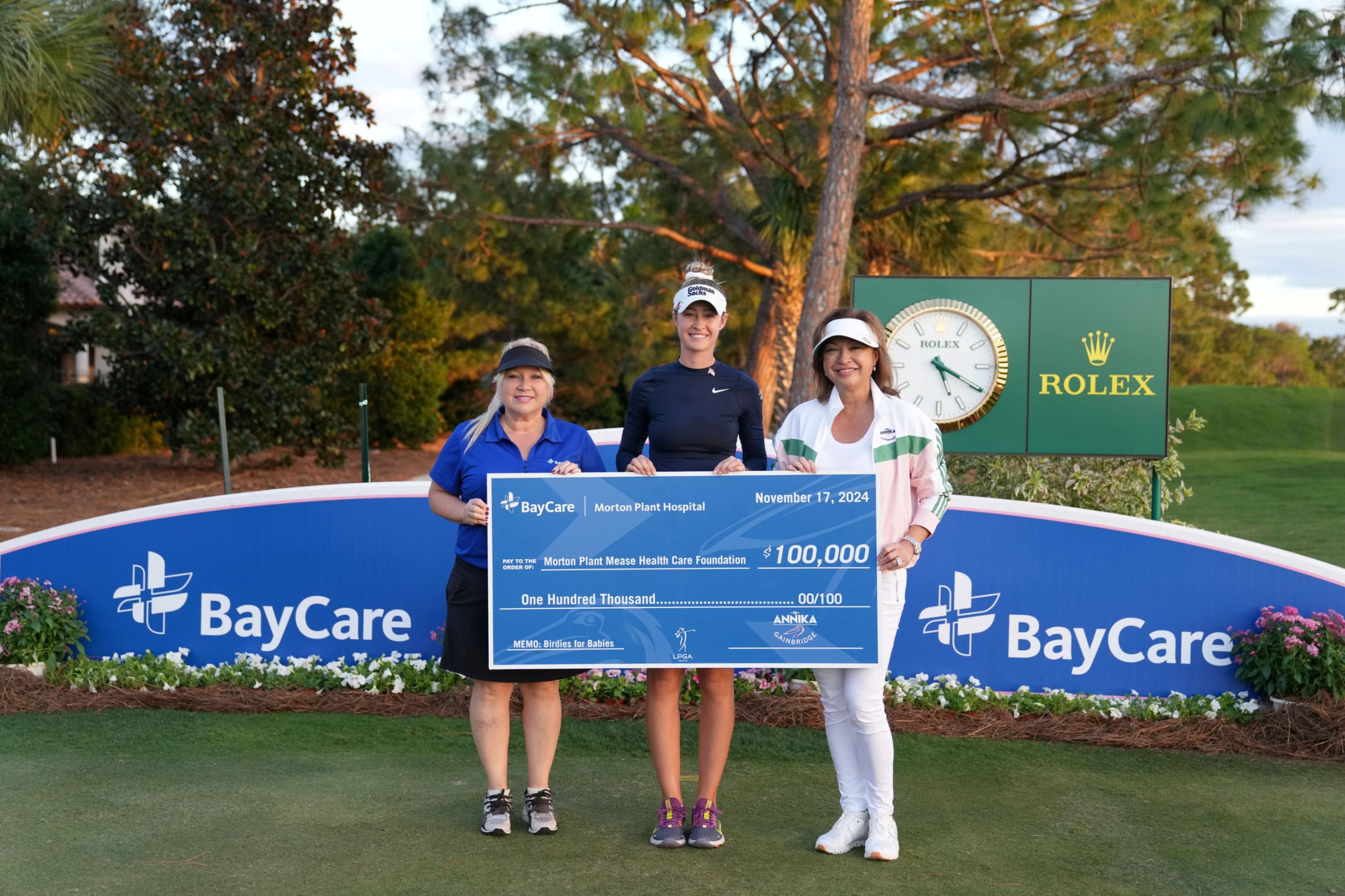 The Pelican Women's Championship and BayCare Health System Launch its 2022 'Birdies for Babies' Charitable Program
Pelican Women's Championship to Donate $50 for Every Birdie Made Nov. 10-13 Going Towards BayCare's AngelEye Health System at Mease Countryside Hospital
Pelican Women's Championship Has Donated More Than $115,000 to BayCare's Birdies for Babies Charitable Program Since 2020
BayCare is the Official and Exclusive Health Care System for The Pelican Women's Championship
BELLEAIR, Fla., Nov. 4, 2022 – The Pelican Women's Championship and BayCare Health System announced today the launch of its "Birdies for Babies" charitable program surrounding the 2022 edition of the championship, taking place Nov. 10-13 at Pelican Golf Club in Belleair, Fla.
To give back to the local community, The Pelican Women's Championship has pledged to donate $50 for every birdie scored during all four rounds of next week's championship (Nov. 10-13) to BayCare's Morton Plant Mease Health Care Foundation. The donations will help fund the AngelEye Health System for families of infants in the Neonatal Intensive Care Unit (NICU) at Mease Countryside Hospital.
The Birdies for Babies charitable program launched with the inaugural Pelican Women's Championship in 2020 and has donated more than $115,000 to families in need in the tournament's first two years. In 2020, The 108-player field carded 932 total birdies for a $46,600 donation; and in 2021, 1,369 birdies were recorded from the 120-player field, for a $68,450 charitable donation.
A link to the Birdies for Babies charitable program and donation information can be found here: https://give.mpmfoundation.org/birdies-for-babies
"BayCare is a leader in providing compassionate care to the Tampa Bay community, and it is an honor for The Pelican Women's Championship to partner with BayCare for the Birdies for Babies program to support our community for a third consecutive year," said Marci Doyle, Pelican Women's Championship executive director. "We are thrilled with our partnership with BayCare as our official health care system for The Pelican Women's Championship, and we look forward to many birdies being made next week."
"We are proud of our partnership with the LPGA Tour and the Pelican Women's Championship and are grateful for their continued support through the Birdies for Babies program," said Lou Galdieri, senior vice president and market leader for BayCare's West Region as well as Winter Haven Hospital. "The support we received in our first two years has had a tremendous impact in our community. The upcoming donations from all the birdies made next week to the Morton Plant Mease Health Care Foundation will go a long way in helping our mission to support families requiring special care in the NICU."
BayCare, a leading not-for-profit health care system, provides a wide range of services at 15 hospitals and hundreds of other convenient locations for patients and their families throughout Tampa Bay and the Central Florida regions.
As a founding partner of The Pelican Women's Championship, BayCare is supporting the tournament's volunteer program that recruits and deploys hundreds of individuals to assist in managing the event. The company also serves as a presenting sponsor of the Women's Leadership Summit presented by Raymond James, taking place on Tuesday, Nov. 8 that will bring together a diverse panel to inspire women in the community featuring local civic and business leaders, as well as LPGA Tour players and executives. BayCare also will brand and operate the on-site Spectator Care Center to assist in any first aid or medical needs of the fans in attendance throughout the week.
For more information on the 2022 Pelican Women's Championship, follow the tournament's social media handles, including @PelicanLPGA on Twitter, @PelicanLPGA on Instagram and Pelican Women's Championship on Facebook.
About Mease Countryside Hospital
Mease Countryside Hospital is a 387-bed facility committed to improving the health of the community. Mease Countryside has been awarded a total of 12 Top 100 Hospital designations in the areas of stroke, orthopedic, intensive care and overall care by the Fortune/IBM Watson Health™ 100 Top Hospitals list. Mease Countryside Hospital has also been designated as a "Baby-Friendly" Hospital by the World Health Organization (WHO) and the United Nations Children's Fund (UNICEF) in recognition of its ability to offer breastfeeding mothers the information, skills and support needed to successfully initiate and continue breastfeeding their babies. Mease Countryside Hospital is located at 3231 McMullen Booth Road, Safety Harbor, Fla. For more information about Mease Countryside Hospital, go to www.BayCare.org/mch.
About BayCare Health System
BayCare is a leading not-for-profit health care system that connects individuals and families to a wide range of services at 15 hospitals and hundreds of other convenient locations throughout the Tampa Bay and central Florida regions. Inpatient and outpatient services include acute care, primary care, imaging, laboratory, behavioral health, home care, and wellness. Our mission is to improve the health of all we serve through community-owned, health care services that set the standard for high-quality, compassionate care. For more information, visit www.BayCare.org
About the Pelican Women's Championship
The Pelican Women's Championship presented by Konica Minolta and Raymond James is the LPGA's annual tournament in the Tampa Bay region and features the world's best female golfers competing over four rounds for a share of the $2 million purse. The tournament is contested at Pelican Golf Club, a Donald Ross design that offers world-class amenities and an unmatched golf experience. The Pelican Women's Championship is operated by Outlyr, a global sports, event management and lifestyle marketing agency. For more information on the Pelican Women's Championship, visit www.PelicanLPGA.com.
About the LPGA
The LPGA is the world's leading professional golf organization for women, with a goal to change the face of golf by making the sport more accessible and inclusive.
Created in 1950 by 13 Founders, the Association celebrates a diverse and storied history. The LPGA Tour competes across the globe, reaching television audiences in more than 220 countries. The Epson Tour, the LPGA's official qualifying tour, consistently produces a pipeline of talent ready for the world stage. The LPGA also holds a joint-venture collaboration with the Ladies European Tour (LET), increasing playing opportunities for female golfers in Europe. Across the three Tours, the LPGA represents players in more than 60 countries.
Additionally, the LPGA Foundation has empowered and supported girls and women since 1991, most notably through LPGA*USGA Girls Golf, the only national program of its kind, which annually engages with nearly 100,000 girls. The LPGA Amateur Golf Association and LPGA Women's Network provide virtual and in-person connections to female golfers around the world, while LPGA Professionals are educators, business leaders and game-changers dedicated to growing the game of golf for everyone.
Follow the LPGA on its U.S. television home, Golf Channel, online at www.LPGA.com and on its mobile apps. Join the social conversation on Facebook, Twitter, Instagram and YouTube.