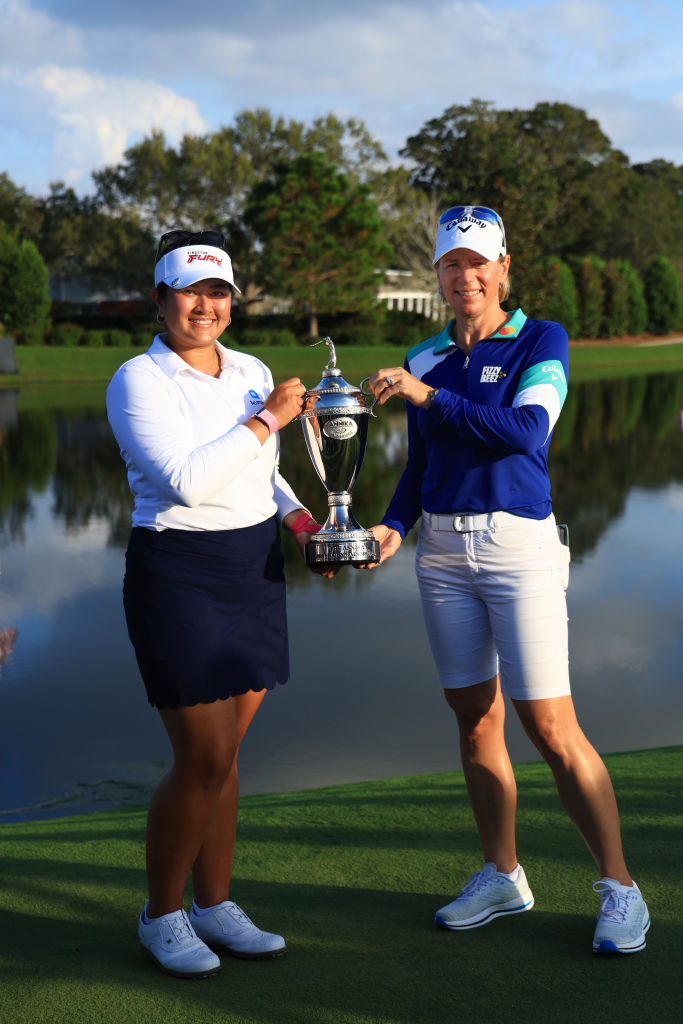 Vu's cool win at The ANNIKA emulates the tourney's namesake
By Jeff Babineau
BELLEAIR, Fla. – Becoming comfortable when the heat of competition gets turned up highest became a building block of Annika Sorenstam's starry playing career. But it wasn't something that came naturally to her as a player. It was something she learned to master over time – through lots of repetition.
Lilia Vu has miles to go to get to Sorenstam's 72 career victories and 10 major titles. In Vu's fledgling professional career, it is still early days, as they say. But for the 26-year-old Vu, a Californian, being in contention at big tournaments late on Sunday afternoon is something that has been fitting her much like a pair of broken-in slippers. Sunday, as others faded in the heat at the inaugural The ANNIKA driven by Gainbridge at Pelicon, Vu just kept on charging, pulling away for a three-shot triumph over Alison Lee and Azahara Munoz, both of whom closed with 67s.
Playing in the final threesome of the day alongside 54-hole leader Emily Kristine Pedersen of Denmark and Amy Yang of China – one of whom has yet to win on the LPGA, and other whose four LPGA titles all have come outside the United States – Vu just kept making birdies. On a difficult day that featured tough scoring and a variety of peripheral perks on the line – some competitors played to get to this week's CME Group Tour Championship, and others played to keep cards – Vu's closing 4-under 66 was a round topped by only two others in the field. Her record 19-under 261 was enough to deliver her fourth victory of 2023, and returned her to No. 1 in the world. Two her victories (Chevron and the AIG Open Championship) were majors. This one was a big one, too.
Vu's four-round total was a record for this fourth-year LPGA stop, which had Sorenstam's name attached to it for the first time. She earned $487,500 from the $3.5 million purse.
"I can't even put it into words," said Vu, who started her day three shots behind Pedersen. "I think I didn't really expect this to happen. I just wanted to have a good week going into CME and just try to be in contention ... and then it turned out the way it did."
Striking a shot this week was about the only thing that Sorenstam, a World Golf Hall of Fame member who walked away to have a family in 2008, didn't do. As tournament host, she was a keynote speaker at a leadership summit, entertained sponsors, held a youth clinic and made herself available to answer any questions the 120-member field wanted to pose. They'd have been wise to speak to her about what it takes to win. It's not an easy thing to do.
"Being there, experiencing it, learning from the different situations ... some (tournaments) you lead coming into 18, some you are chasing, sometimes there are playoffs – they come in different fashions," Sorenstam said after handing the trophy to Vu. "You just learn. But it was not something I had in me."
Playing great golf and enjoying the game has been something that had eluded Vu until this season. She had a dismal rookie season on the LPGA – nine starts, one made cut – and headed back to the developmental Epson Tour for a season – and seasoning – to regain her card. She even contemplated stepping away from the game. She said she is a bit of a perfectionist, and can get in her own way. This season, she has been in everyone else's way.
"It's mindset. I think it's all been mindset for me," said Vu, who remains in the thick of the LPGA's Player of the Year race. "I'm not a technical player. I just try and play the course the way that it's given to me, and then go from there."
Vu birdied three of her opening six holes, and then fought and scratched her way for a spell, mostly making pars, until reaching the middle of the back nine. But she found something late with a birdie at the par-3 15th to go along with a strong birdie at the 388-yard 16th, where she squeezed a gutsy 8-iron between the flag and the water that protects the left side of the green. Her caddie would call it her best swing of the day. When Vu converted from 7 feet, she had a three-shot lead with three to play. Vu now knows what to do from there.
"She really only missed a couple of shots on the whole weekend, really," said Cole Pensanti, who has been on Vu's bag for a little more than a year. "Her ballstriking is good. I feel I helped her get into a little better mindset when she was getting a little negative here and there. Other than that, she just hit the shots when it needed to happen.
"That's how you win golf tournaments. You're going to have difficult shots, and you have to pull them off, and she did it more times than not this week."
Pensanti said Vu no longer "wishes" for good things to happen; she expects good things to happen. That's a seismic shift in confidence. "She's always 'known' she can do it," he said, pausing "... but now she KNOWS she can do it."
Vu got angry with herself after missing a 4-footer for par at the par-3 12th, where she had missed the green left, and followed that by hitting a poor drive at 13, well behind her fellow comptetitors. ("I was a little soggy diapers after that," Vu admitted.) So she vented for a little, Pensanti gave her space, the two had a pep talk, and she picked up her play. She looked like a new player.
"He (Pensanti) said the right things," Vu said, "and it worked out."
Pedersen, 27, made 21 birdies and eagle in her opening three rounds, and seemed poise to make a run at her first LPGA title. That said, she is no stranger to winning. In fact, during her breakout season in 2020, she won three consecutive starts on the Ladies European Tour, where she has five victories overall. She also made the winning putt for Europe at the Solheim Cup in 2021, and was on this fall's European team that retained the cup. She knows big moments.
But Sunday she couldn't get anything good to happen. She didn't make a single birdie, shot 74, and slid to T5. Likewise, Yang, who is 34 and in her 16th LPGA season, seemed to be swinging it nicely and came into Sunday leading the field in putting through three rounds. And then her putter went ice cold on her. It happens.
Sorenstam, herself a World No. 1, had a hard time thinking of a better start than having the new World No. 1 win the inaugural LPGA event with her name attached to it. Vu is a bold player, and winning more frequently is likely going to be a big part of her future.
When she was a standout at UCLA a few years ago, a big goal was to win the ANNIKA Award that is given to college golf's best female player. She didn't, and it was disappointing.
Late Sunday she had a shiny new silver trophy at her side and roughly half-a-million dollars headed for her bank account. She smiled. The LPGA's new No. 1 getting honored by the greatest to ever play the women's professional game. It was some sort of dream.
That would do just fine.
Back to News