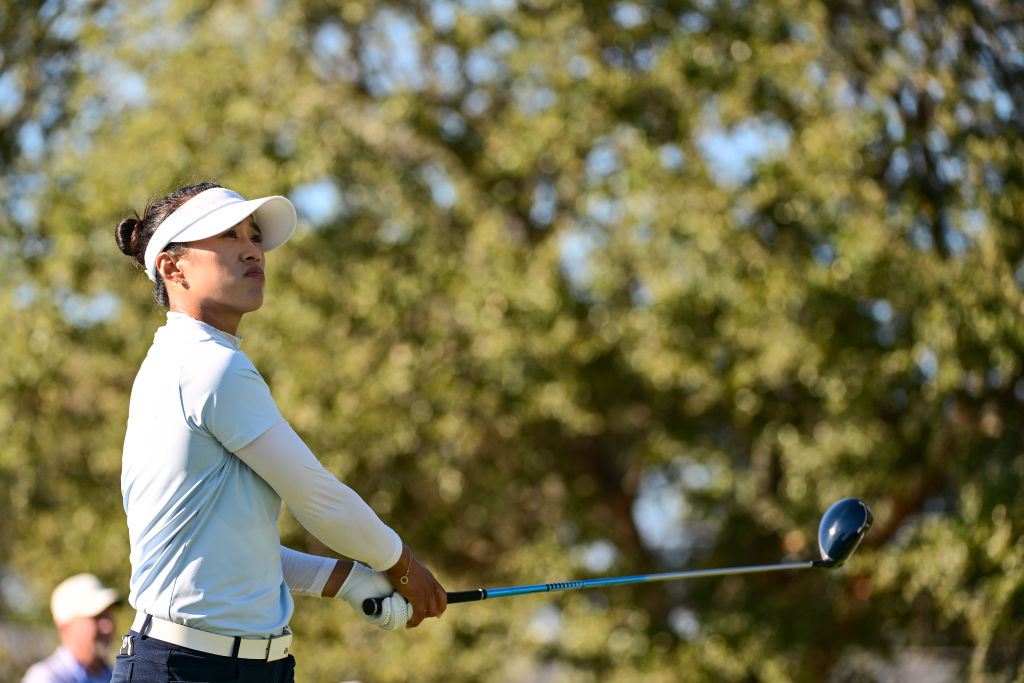 Yang Sets Course and Tournament Record with 61 at The ANNIKA
BELLEAIR, Fla. – She's the only one who wasn't thinking about 59. On Saturday at The ANNIKA driven by Gainbridge at Pelican, Amy Yang strolled to the 16th tee at 8-under for the day, a round that included three 2s – two for birdie and one for eagle when she holed out a 9-iron on the par-4 5th. Three closing birdies would have cracked the magic number of 60 at an event named for the only player in LPGA Tour history to shoot 59, Annika Sorenstam.
It didn't happen. Yang parred 16 and 18 with a birdie on 17 in between to shoot a career-low 61 at the par-70 Pelican Golf Club. Yang's previous low was 62, which she fired twice in her career, once in 2013 and again in 2015. She does hold the tour record for most consecutive birdies with nine. So, this is a player who can get on a roll.
But she didn't think about the 59, despite the fact that Annika was on the driving range giving a LPGA*USGA Girls Golf clinic when Yang played 18. If she'd holed her approach for eagle, Club 59 would have had two members. Yang's approach stopped 12 feet long and left of the hole, and as two-putted for par, Annika's husband, Mike McGee waited beside the green. "I played in the pro-am with her," he said of Yang. "She's hitting it so good."
So, what was she thinking as she vaulted up the leaderboard? "You know, honestly, not much," Yang said. "I would say yesterday and today, both great rounds, and I was thinking, what did I do so well to shoot these low scores? It was just, you know, I committed. I was really committed to each shot knowing that it's not going to be perfect out there. Accept that and just commit and trust what you practice for.
"A lot of it is a mental game. It's just committing to what your intentions are, and just not feeling much. Really not much going on. You know, a lot of times you have a lot of doubts and second guessing out there. But I don't think I had that yesterday or today."
Opening rounds of 69 and 65 had Yang in 13th, a nice showing but nothing that attracted attention. Saturday's 61 moved her into a tie for second with Lilia Vu and in the final group with leader Emily Kristine Pedersen.
"I kind of feel that I had the game out there today," Yang said. "Instead of thinking what's around there, where do I want to miss it, or seeing something (that is distracting), instead of thinking about all the troubles, I was just thinking, this is another straight shot that I've been practicing, another straight putt. Just pick a line and try to hit it there."
The 34-year-old Yang has had three top-5 finishes in 2023 and four career LPGA Tour victories, but she hasn't won since the 2019 Honda LPGA Thailand. All four of Yang's victories came on the LPGA's Asian swing.
*
"After the past like two or three tournaments I didn't play so well. You know, I had to get back on my practice and try to get back at it. This just gives me good confidence boost for the Tour Championship next week. So I'm happy to see it."
She would be even happier to see another trophy on Sunday, especially one that will be presented by Sorenstam. One of Yang's earliest victories came in 2008 on the Ladies European Tour when she beat Sorenstam in another event that bore her name: The Scandinavian TPC hosted by ANNIKA. Yang was 19 at the time.
*
And while she is in the best shape of her life since she was a teenager, Yang still has one thought before, during and after every round. "It's tempo," she said. "It's always been tempo."
What she doesn't think about is a number.
"I wasn't counting (today)," she said after the Saturday 61. "I was more into the game than thinking about score. If I was thinking about 59, I don't think I would have played well."
Whatever she's thinking, another round like the one she had on Saturday would certainly go a long way.
Back to News